"Feast, London's most exciting and daring food experience" – with such an introduction, I had great expectations about the street food event that took place in London last weekend.
Following on the footsteps of The Long Table, which animated a car park in Dalston in December, Feast brought together some of the best street food vendors and restaurants in the courtyard of Guy's Hospital, near London Bridge, underneath the impressive Shard.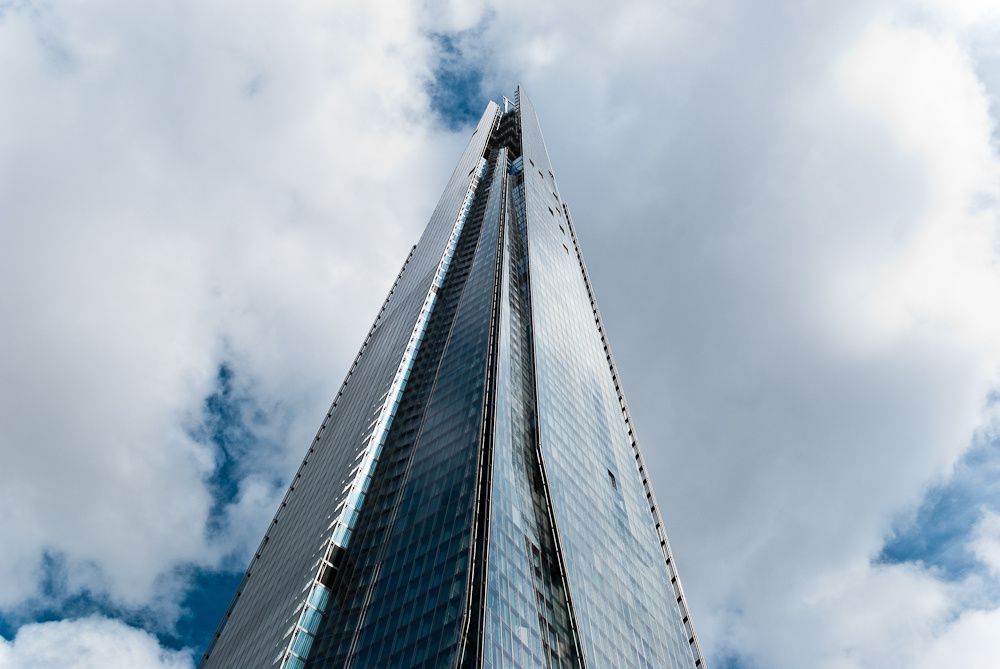 Despite the intervals of rain and sun, the event proved to be popular. The crowd in the courtyard was buzzing, with a nice atmosphere and live music playing in the background. As usual, I bumped into a few familiar faces: Louis of Tuck and Vine and The Pizza Pilgrims.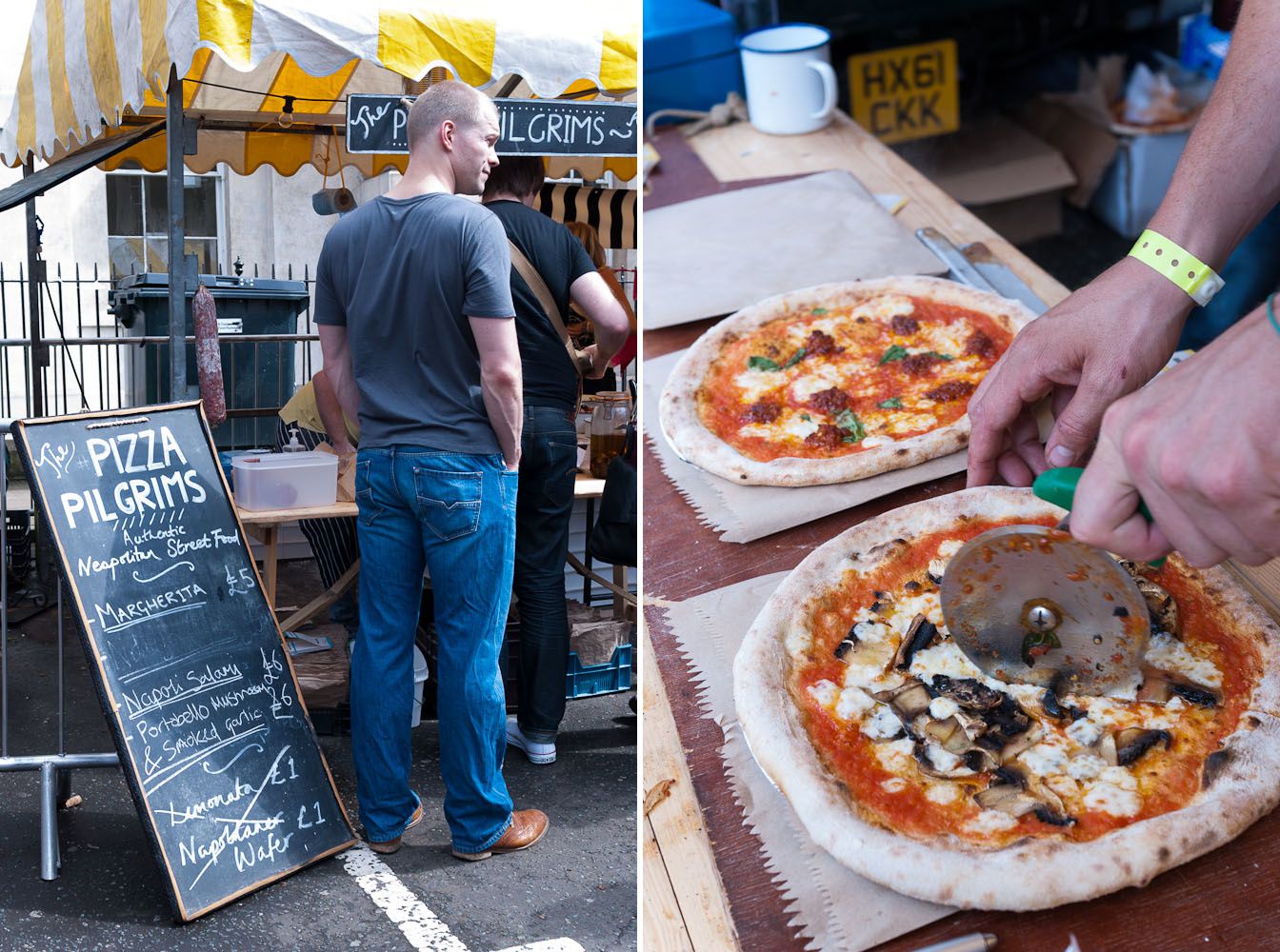 I didn't attend the Long Table last year, as I was put off by stories of long queues in the cold, but this wasn't a problem at Feast, as the entry was limited to ticket holders. When I purchased the tickets online (£6 + £1 booking fee, as opposed to £8 on the door), I kind of thought that the food would be included…of course, that wasn't the case, as unfortunately the entry ticket didn't entitle us any food or drinks.
As I crossed the entry gate, I walked straight to La Piadina Pronta. I waited for months to try their piadinas (Italian flatbread) and finally the chance came last month when they traded at Red Market, near my office. On that occasion, I tried two piadinas with Parma ham and mozzarella / Salame and stracchino, both very good. I made a note of trying them again at Feast!
Set up by father and daughter Giorgio and Alexandra, La Piadina Pronta is a young business, which I'm sure is going to stay around for long.
Just look at this piadina, made with 10 slices of salame sliced on the spot by Papà Giorgio. Friendly service, welcoming and positive attitude, high quality products, generous portions and fair prices: these are all the great qualities of La Piadina Pronta.
The piadinas are served in two varieties: the classic Piadina Romagnola of Rimini (made with olive oil) and Crescia Sfogliata, a variation made in Urbino with more eggs, pepper and lard (in Italian, "strutto").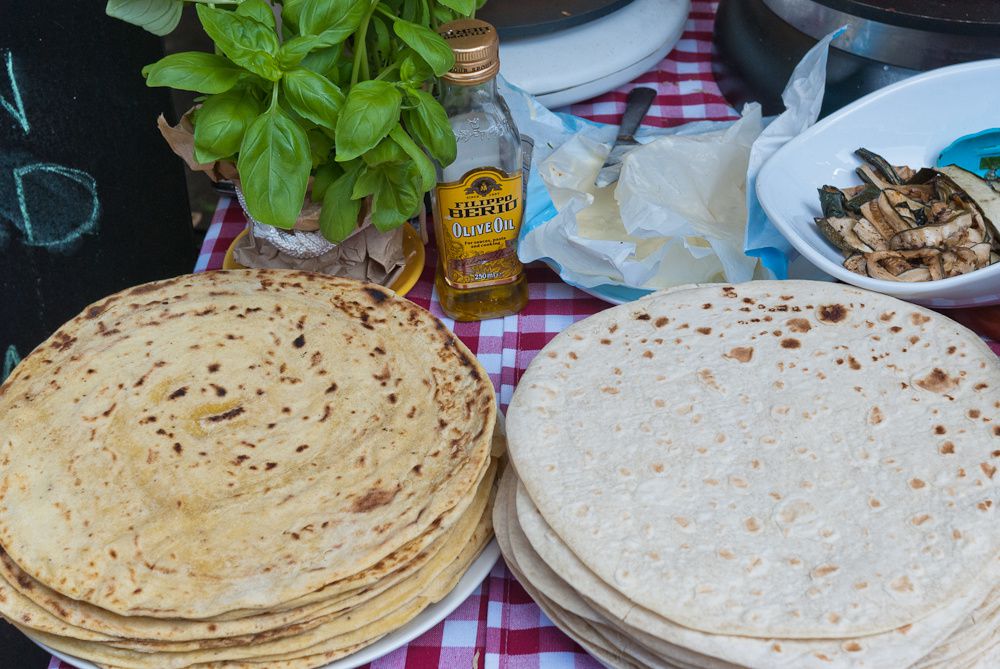 I tried both types: the Crescia certainly has got more flavour, it's thick and tasty, but it also crumbles easily, while the Piadina is soft, not gummy, and holds the fillings together perfectly. I loved both and I can easily say they were the best piadinas I've eaten in London!
While Sandy and I shared one vegetarian piadina as a starter, for the main course I chose the 'Ari Gold' Cheeseburger by Patty & Bun. I read great things about their burgers and was sad to miss their pop-up residency at The Endurance Pub last month (read the Burger Anarchy review here).
The burger was not cheap (£6.50 for just the burger, no chips) but cheaper than the Hawksmoor burger (£9). It was also amazing, and when you eat food so good, you stop caring about the money you have just spent. Dan, of Bloke Does Blog had a "Burger Off" between Patty & Bun 'Smokey Robinson' and Hawksmoor 'Kimchi Burger', declaring the first one a clear winner!
One thing I tried at the Hawksmoor stall was the Ferrero Rocher Macaron. One pound for one bite of delicious chocolate and hazelnut.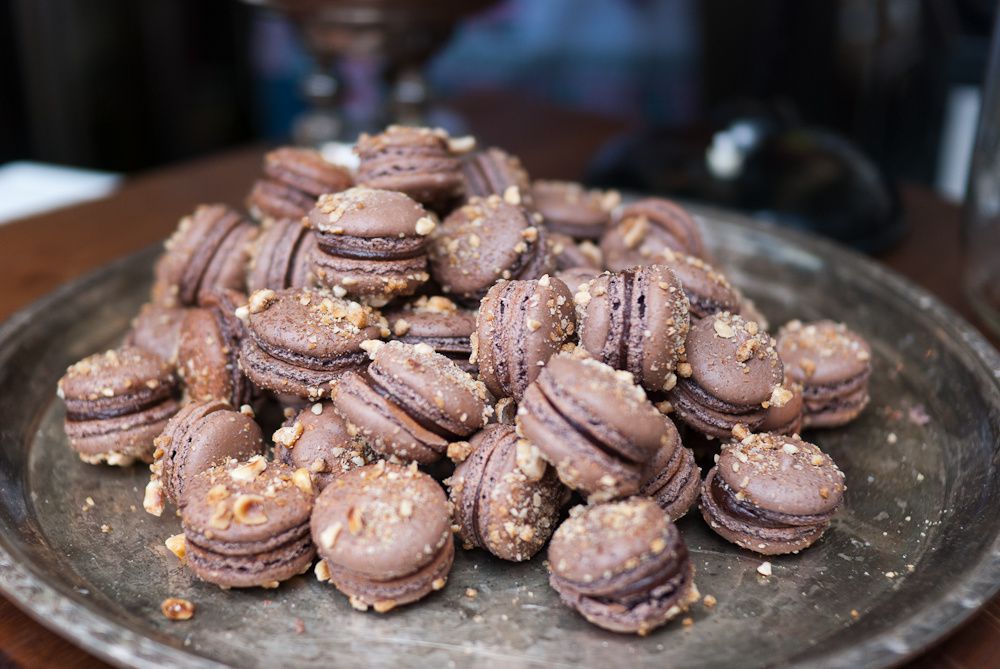 Macarons seemed to be "the thing" at Feast, as Le Petit Paris was also selling them. The other dessert choice was colourful meringues by The Meringue Girls.
One thing that let me down was the Strawberry Spritz by Background Bars. Spritz is becoming a trend in London, which is a good thing and bad thing: good, because I love the drink; bad, because anybody will start serving it and most of it is bound to be BAD.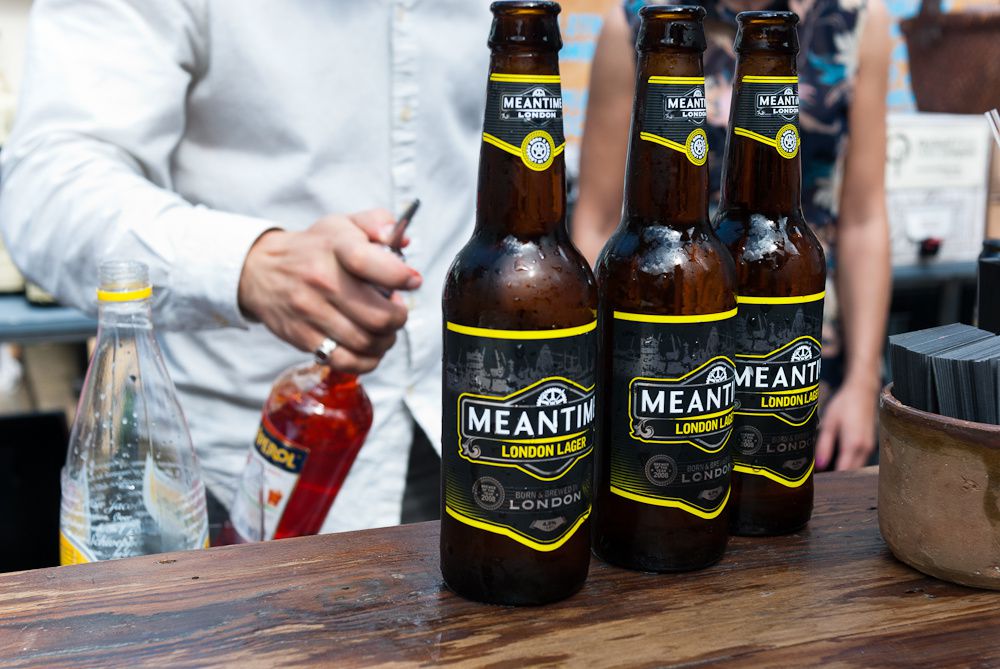 This one was bad and expensive (£5). There wasn't enough of Aperol and Prosecco and too much Schweppes (way more than the "one part" recommended by the official Aperol Spritz website). Half the glass was filled with ice, which quickly melted turning the bright orange colour of the drink into a pale yellow one. The strawberries didn't add any flavour to the cocktail.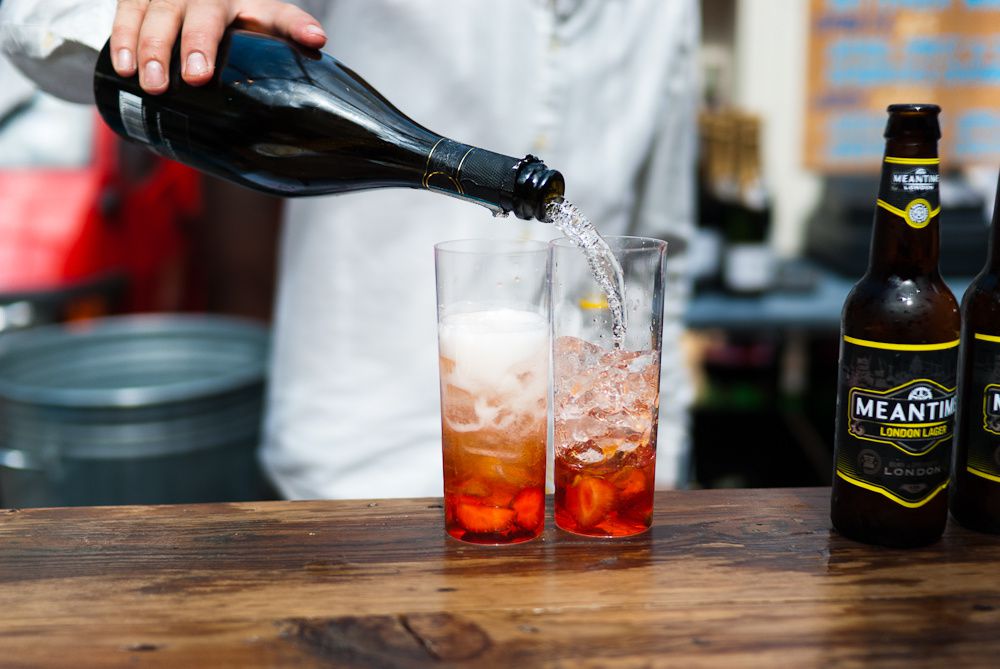 We arrived at the market with £30 cash, hoping it would be enough to feed two people, but the money quickly disappeared from our pockets until I was left with two options: leave without dessert or withdraw more cash. Too tempted to try the chocolate brownie of St John's Bakery, I chose to get more money! (a good move, the brownie was great!)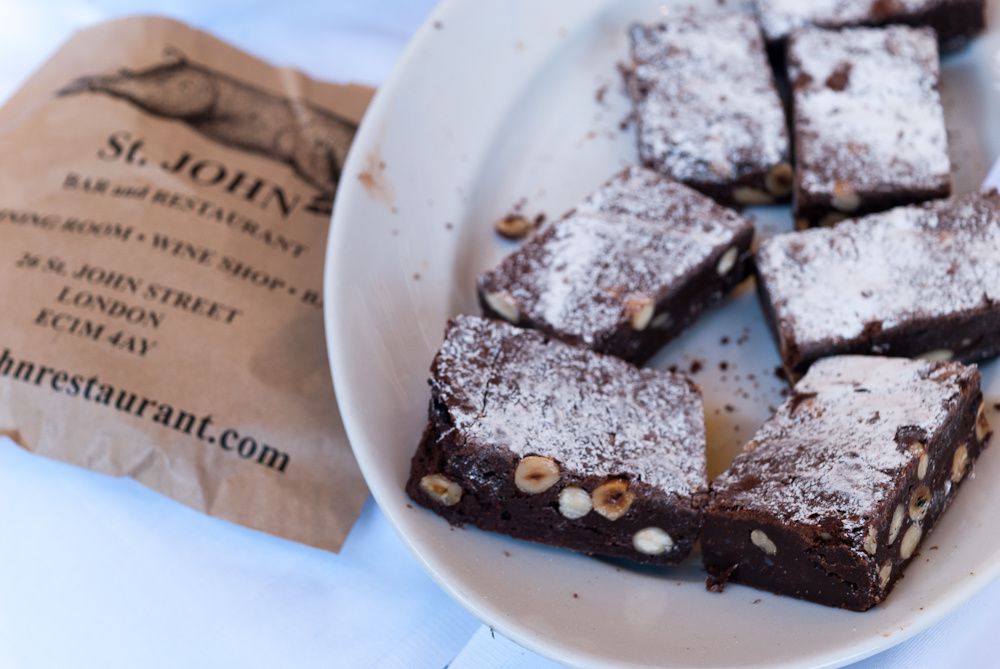 Perhaps we didn't go at it in the right way. Perhaps the point was to make expensive restaurants (like Barbecoa, St John's, Hawksmoor, Anchor & Hope) accessible to people at a more affordable price. £9 for a burger might be high for a market, but still cheaper than the same thing in a restaurant.
We ended up spending nearly £50 (incl. the entry), and even though the food was (mostly) very good, we could have had a better dining experience in a restaurant for the same amount. We left feeling a bit disappointed, especially my other half, who was in a grumpy mood and declared that he won't accompany me to any other food festival! :(
So yeah, maybe our approach was wrong, as we skipped the most famous restaurants to try food from real street vendors, such as La Piadina Pronta and Patty & Bun.
We only stayed around for one hour, enough time to take out the sunglasses and then replace them with the umbrella, and to eat some great food (and some not so good). We left soon, before we could spend any more money! ;)