One of my favourite meals of these past few months was at Upstairs at Ten Bells, the Young Turks British restaurant above the historic Ten Bells pub in Spitalfields. Initially started as a temporary project by the Young Turks & The Clove Club, it became permanent after receiving great feedback from the public.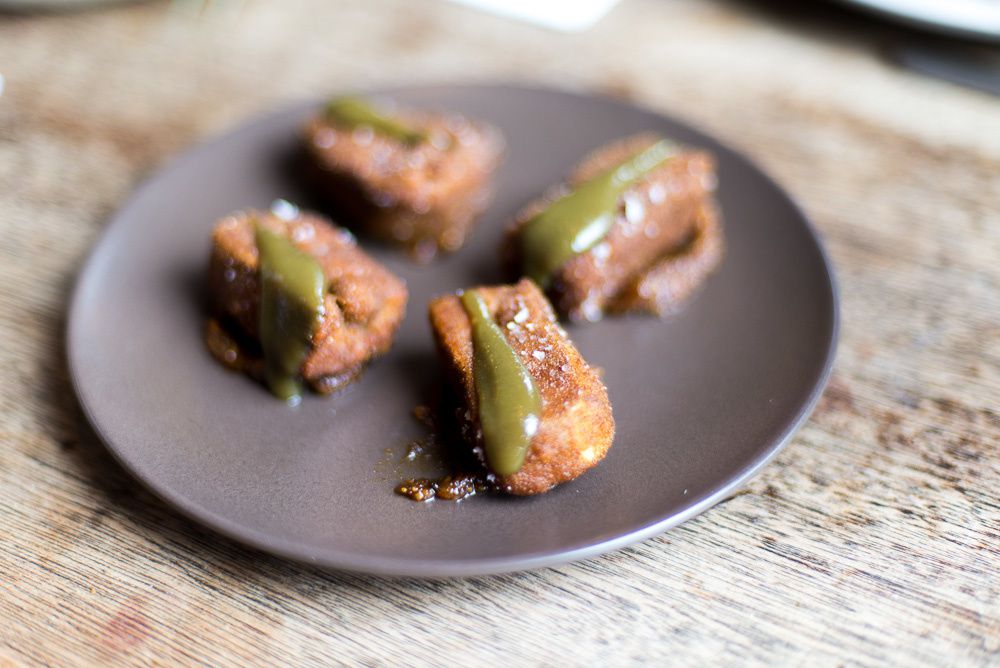 I went there for lunch on a rainy Friday at the end of May with Serena, Kelly and Pooja. We started with a few snacks: Breaded Aubergine, Sweet & Sour Caper, Walnut & Parmesan; and Buttermilk Chicken & Pine Salt. The chef also offered us an additional snack that was not on the menu: apple slices rolled with goat's cheese.
We all opted for the Two Courses lunch deal (£17): two of us ordered starters/mains, while the other two ordered mains/desserts.
For starters, we shared the Fried Cuttlefish, Jersey Royals, Red Pepper & Lovage; and Lamb Sweetbreads, Borlotti Beans & Artichoke.
The mains on the menu that week were: Roast Pork Loin, Fregola Sarda, Peas, Gem Lettuce & Roast Onion; and Cornish Cod, Monks Beard, Fennel & Grapefruit Sauce Vierge.
As usual for me, the highlight was the dessert (although I did really love the buttermilk chicken and roast pork loin too!). The Cheesecake with Peanut Crumble & Loquats tasted as good as it looked!
With service charge and a glass of wine we spent about £22 each, for a fantastic meal in a quiet and beautiful room and top notch service. I definitely recommend it if you work in the area or have a day off! Of course, dinner is great too, but it's probably advisable to book in advance.