CUTS is a new London supperclub, a collaboration between Forza Win and The Ginger Pig that was born "from a mutual love of meat and flames".
Set in a disused pickle factory in Hackney, CUTS aims to recreate the atmosphere of an Italian-style summer grigliata (BBQ), where everyone sits together at a communal table sharing the food.
I attended the CUTS launch party two weeks ago and really enjoyed the setting, food and atmosphere. The hard work put in by the Forza Win / Ginger Pig team is clear in all the small details and everything seemed to run perfectly, even on their first night. Their passion and dedication to creating a top quality event was evident.
I didn't really feel transported back to Italy and I mean this as a good thing. CUTS is a quintessentially East London party combined with a few elements of the Italian dining tradition: many people around a table sharing plates of hot grilled meat. I enjoyed making conversation with strangers while eating delicious meat and drinking Aperol Spritz and great wine.
The menu features:
– Lamb neck fillet with lemon and rosemary, pea and marjoram puree and pea shoots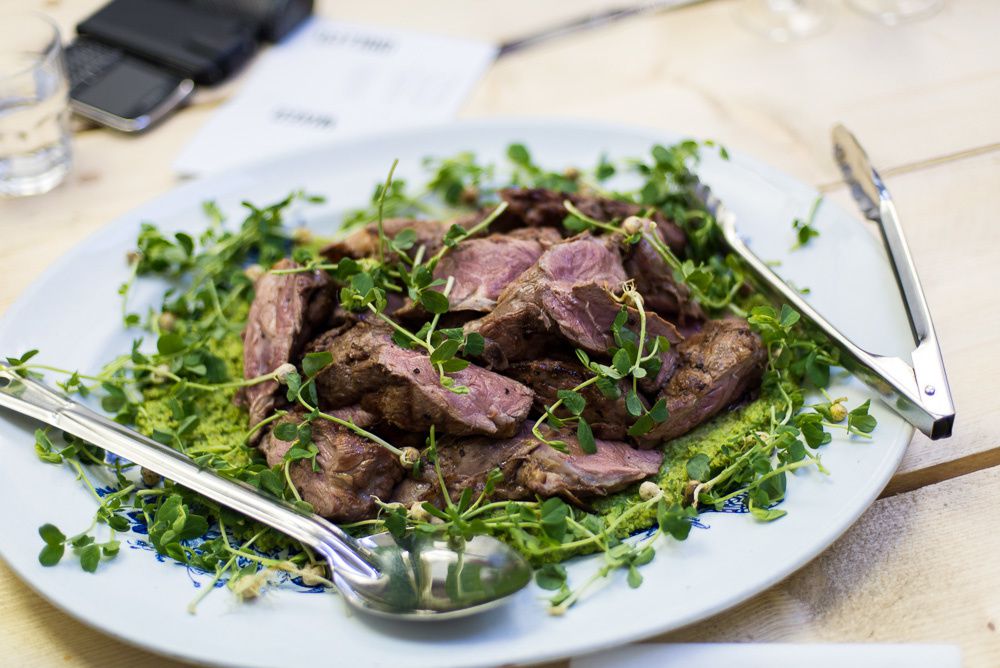 – Pork rib eye with slow-cooked Italian beans and lardons, grilled bitter Treviso radicchio
– 80-day Longhorn rump beef, Parmesan polenta croutons, wild mushrooms, confit garlic cream.
A bowl of freshly-made panzanella was also passed around the long table.
Lavender panna cotta with poached rhubarb (or other seasonal fruit) is served as dessert.
CUTS runs every Thursday to Sunday until the 22nd of September. Tickets are £40 including an aperitivo, three meat courses, dessert and coffee. Email [email protected] to book.
Disclaimer: I was invited to the CUTS launch party. All opinions are my own.