Last Saturday I decided to visit Reilly Rocket for a quick brunch before heading to Street Feast #BSFA. I don't remember how I discovered this coffee shop, but it looked really nice and I am always happy to try new independent coffee places.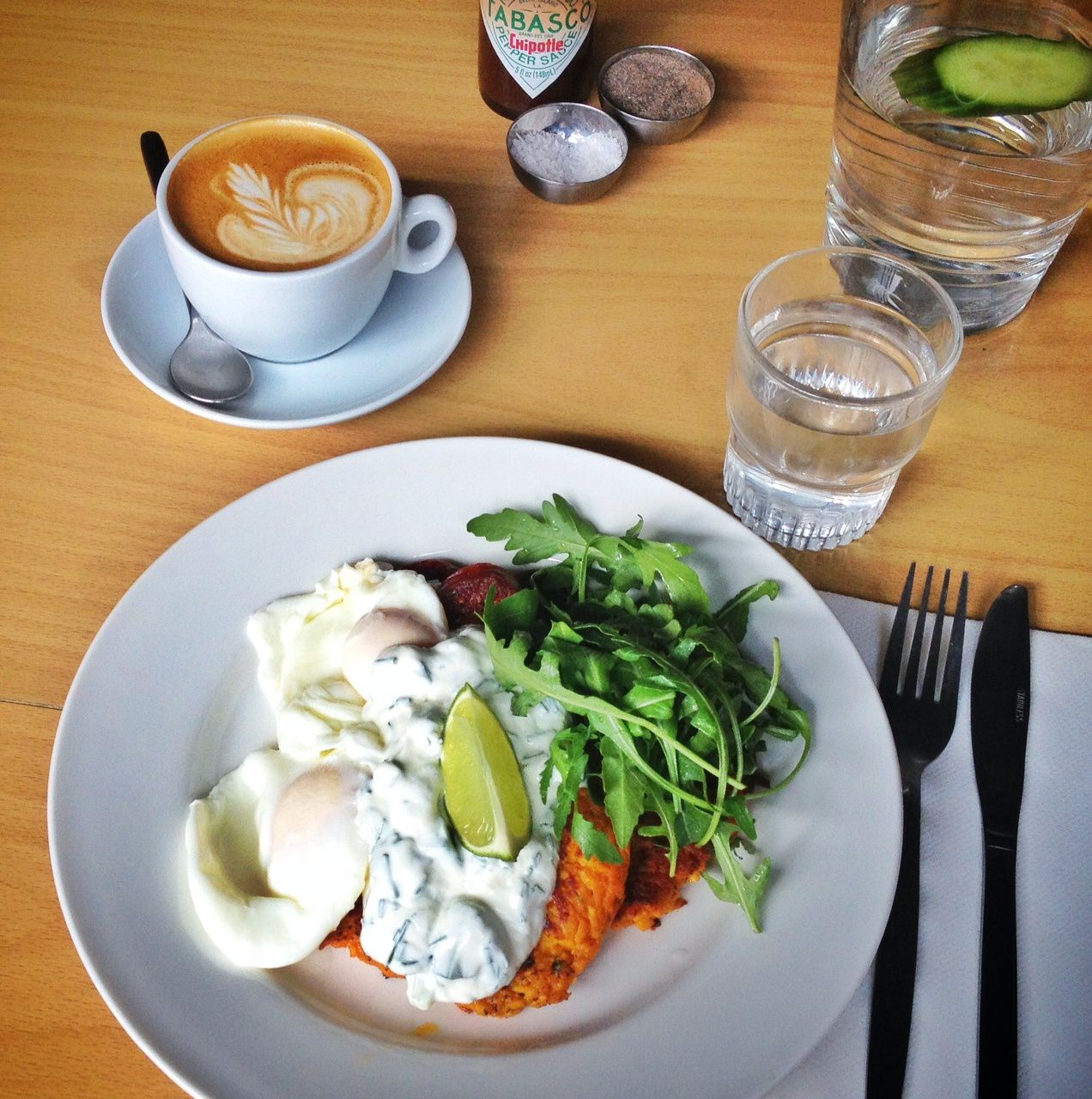 I didn't take photos for a blog post, but I often write reviews on Google Local of places I visit in London. So on Monday 30th September I left a review about Reilly Rocket on the Google Local page. This was the original version: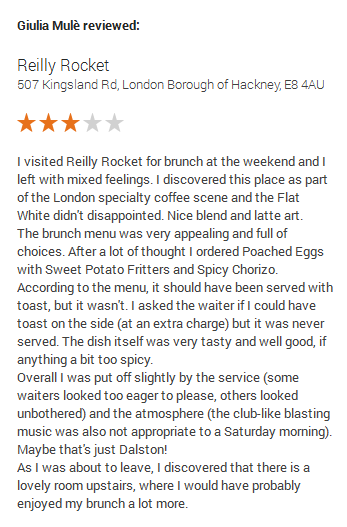 The next day, I received a tweet from the coffee shop, pointing out that their menu clearly stated that toast was not served with the Potato Fritters dish. They also added that I should "read the menu properly before becoming another critic". An unnecessary and aggressive remark that I didn't deserve.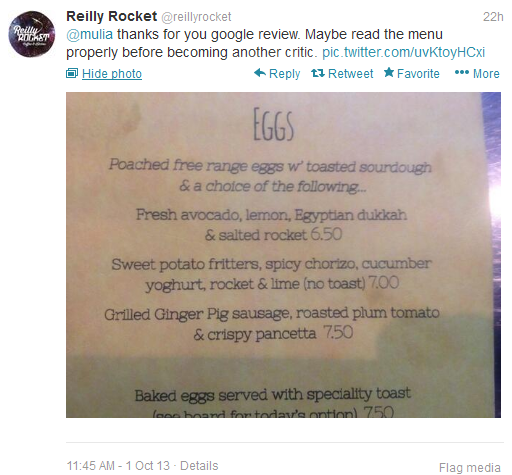 A few minutes later, they shared this tweet on their page:

Whilst the second tweet didn't tag me, I obviously felt it was directed at me.
I didn't want to make a big deal out of it, so I apologised to them for the mistake in my review and I went to Google Local to remove the incorrect sentence.
But their aggressive tone had upset me and made me wonder whether I had been too harsh with my review. While I stand 100% by what I wrote, perhaps I could have used better words to express my views? I tried to be reasonable: after all it's their business, of course they are going to feel protective about it and aggressive towards whoever says anything negative about it.
I decided to edit the review and phrase my opinions in a better way. This is the second version of my review, edited on Tuesday 1st October: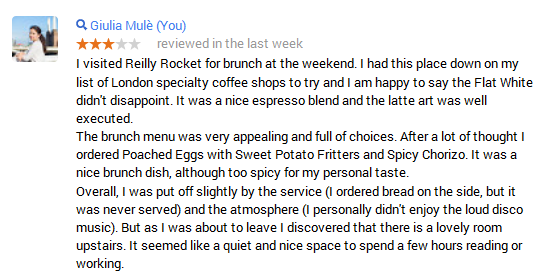 I didn't change the content and structure of the review. The main points are still the same: good coffee, good food (but too spicy), bread order forgotten, not impressed with service, I didn't like music, I liked the room upstairs.
In insight, I should have not changed my review. A better approach would have been to add a correction to the bottom of the review. I have learned a lesson for next time. But I honestly did not expect that it would upset the manager at Reilly Rocket so much!
After apologising for my mistake and amending the review, Reilly Rocket wrote to me on Twitter again. They accused me of trying to be a food critic, of not standing to my opinions and of writing reviews that are not a true account.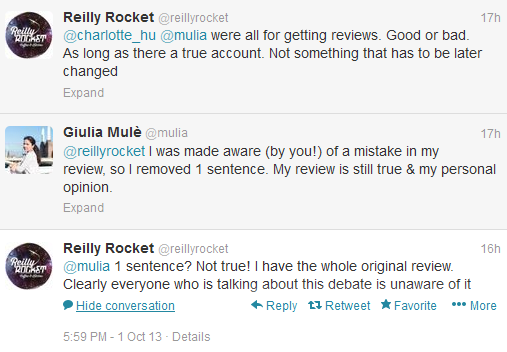 I explained to them that I am not a food critic neither I am pretending to be one. I merely shared my personal experience with the community. Reilly Rocket reply to this was:

Accusing me of being the reason why small independent shops suffer is mean and pointless. I support small independent cafés every day by spending a lot of money as a customer and by promoting them via my blog and social media.
I believe that I have the right to voice my personal opinions online as long as I am polite and considerate and report true facts.
Today I received a message from the manager (and person behind all the tweets) "in regards to the undeserved backlash of Reilly Rocket on Twitter". He explained why he was so upset by my review and by the fact I changed it. He did not apologise for the aggressive tweets and for the accusation he made about me. He believes that "reviews like mine are detrimental to a young business".
I can appreciate that for any business (big or small) it is upsetting to read bad reviews online. I am upset if anyone says anything bad about me. It's normal human behaviour. This does not justify an aggressive response.
Small business owners may feel like they don't have a voice to set things straight or enough opportunities to rectify a bad review. BUT THEY DO HAVE A VOICE. The way a business responds to user reviews shows how much they value their customers' opinions.
Reilly Rocket believes I unleashed my followers against them. I did not. They showed an arrogant and short-sighted attitude towards their customers and anybody who writes reviews online. This is what caused the backlash.
There are many small shops in London that deserve my support. In my opinion, Reilly Rocket is not one of them.