If you are looking for a beautiful destination in the English countryside to escape to for a day or a weekend, look no further. The Pig, a hotel and restaurant set in the heart of the New Forest National Park, is the perfect place for you.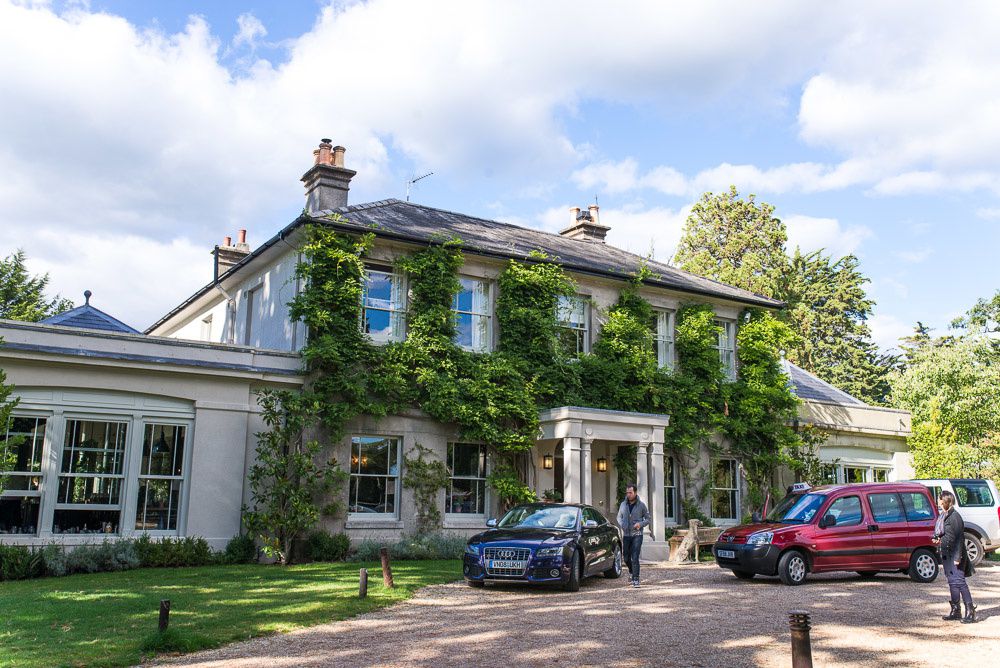 I was invited to visit The Pig for lunch last month, an opportunity I knew was too good to miss. Less than two hours away by train from Waterloo, the New Forest is the ideal place to relax and enjoy a day out of the city. We got off the train at Brockenhurst, hopped on a cab and ten minutes later we were at the restaurant, with a glass of champagne in hand.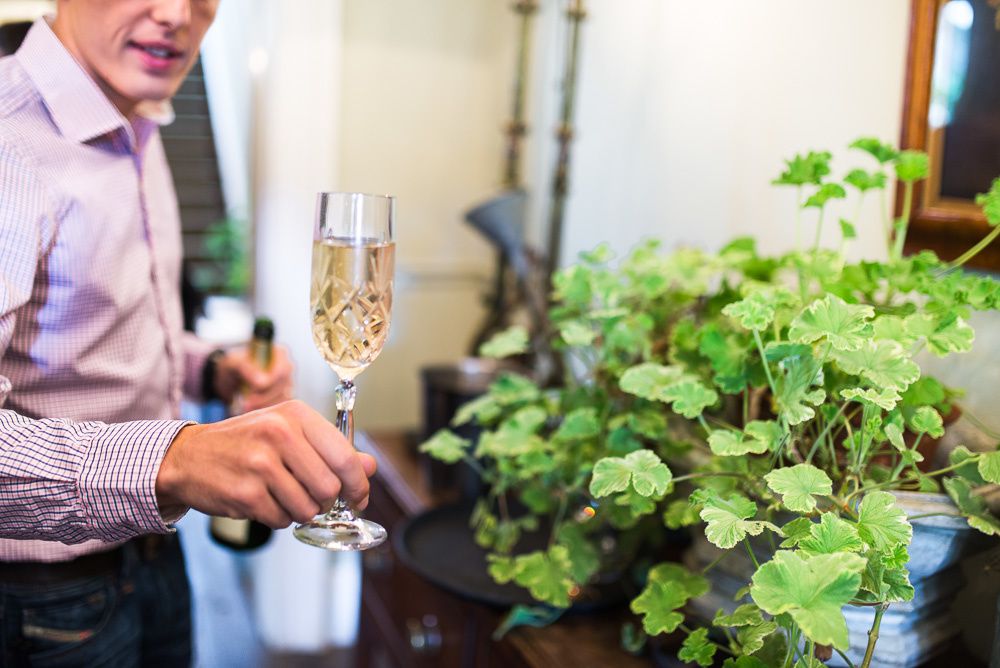 The Pig is a boutique country house with 26 elegant and cozy bedrooms, surrounded by an extensive walled garden where the restaurant's food is sourced. The building itself dates back to the 17th century, but it was completely renovated in 2011. The location, adjoining a forest and the parkland, is stunning.
Launched by Robin Hutson (founder of Hotel du Vin), The Pig was soon joined by little sister The Pig On The Wall, a bed & breakfast in Southampton. Two other hotels will open in Somerset and Dorset next year.
The Pig's facade is of a traditional hunting lodge, while the charming dining room is an authentically reproduced Victorian greenhouse with mismatched floor tiles, furnished with a homely and rustic yet elegant touch. The wooden tables are bare without cloths, but filled with aromatic plants, wire bread baskets, bottles of infused oil, colourful ceramic water jars and bone handled cutlery. I have never seen a country house more beautiful than this one. I was in awe.
Connected to the greenhouse is a private dining room, a beautiful setting for parties and family reunions.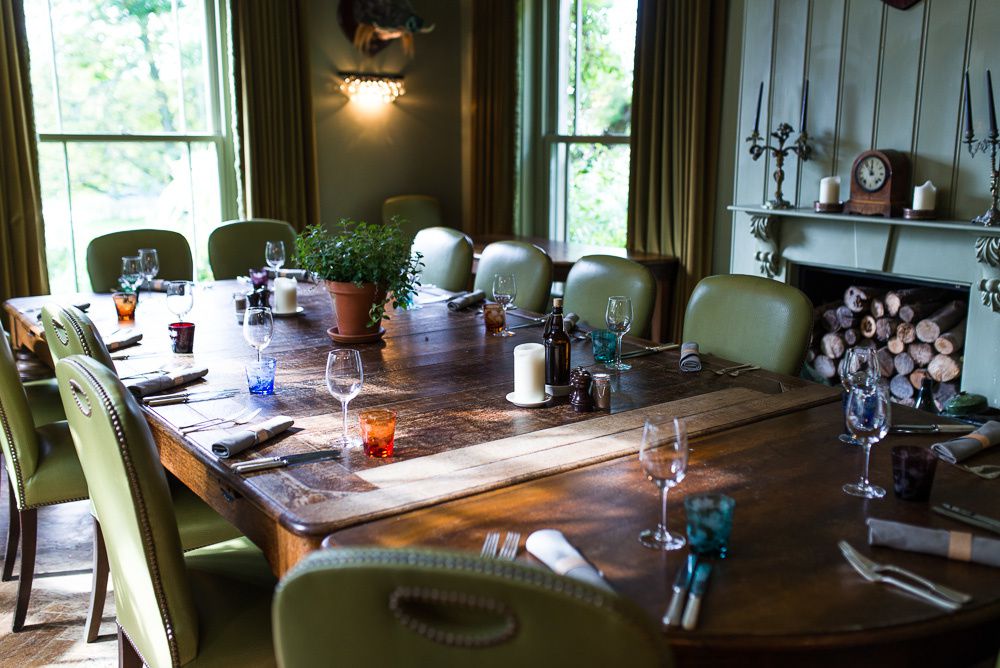 At The Pig, the emphasis is on locally-grown food ("from garden to plate"): the menu is seasonal and changes daily depending on what is available on the grounds or from nearby farms and producers. This is not a traditional hotel that also serves food. The Pig is first and foremost a restaurant (with rooms).
Every morning Head Chef James Golding meets with his forager Garry Eveleigh and kitchen gardener Alex to discuss which vegetables and other ingredients are in perfect condition and then they develop the restaurant's dishes based on this offer.
Uncomplicated and simple British garden food, true to the micro seasons and influenced by the forest and coast, with the emphasis squarely on fresh, clean flavours. What can't be grown in our Kitchen Garden, or in the extensive vegetable and fruit beds, is sourced locally – our further commitment to the 25 mile menu. [Official Website]
The menu is divided into five categories: Piggy Bites, Starters & Small Plates, Literally Picked This Morning, Forest & Solent, Garden Sides and Puddings. We started we a few bites to share across the table (I only tasted the Brock Eggs which I loved).
For lunch I ordered a Watercress, Potato and Crab Apple Soup with Thyme infused Dorset sour cream followed by a main course of Herb & Fennel Roasted Hampshire Fare Pork Fillet (with garden greens, crab apple mash & mustard sauce).
Both dishes were delicious. I love creamy soups and the watercress, potato and apple combination worked perfectly. The main course was a generous portion of meat and the apple mash provided a nice alternative to the more traditional mashed potatoes.
The dishes ordered by the other guests at my table included: James Golding's Home Smoked Glenarm Salmon; A Pinch of Salt's Air Dried Ham & Cavolo Risotto; South Coast Hake Fillet & Pickled Rock Samphire; Dressed Portland Crab & Triple Cooked Chips; The Pig's Extraordinary Bath Chap (on a board).
Despite being full after all the champagne, cocktails, snacks and two courses, I was really looking forward to the puddings (as usual)! :)
The choice was hard and took me a while, but eventually I ordered the Warm Earl Grey Scented Chocolate Torte with Earl Grey Ice Cream & Chocolate Sauce. It was divine, but then I tasted the Home Grown Rhubarb & Apple Crumble with Dairy Ice Cream and loved it even more. Same with The Pig's Blackberry Mousse. Well, let's just agree on the fact that all puddings at The Pig are marvellous!
Stuffed and happy after such a delightful lunch, we headed outside to meet Chef James Golding. Together we visited the kitchen garden, herb patch, green house, fruit cages, wild flower meadow orchard, smoke house and saw the chickens, quails and pigs.
The Pig organises foraging family activities where they take you through the forest or along the coast, collecting wild edible food or foraging for fruits, nuts and berries. A great way to enjoy a day out and learn something new at the same time!
It was such a pleasure meeting James and chatting about his commitment to the 25-mile menu and sustainability, which equals to minimum food waste, thriving local economy and healthy, good quality food.
I cannot recommend The Pig highly enough: truly a one-of-a-kind experience.
Disclaimer: I was a guest of the restaurant. All opinions are my own.