Turkey, one of my favourite countries in the world, is a bucket list destination for many people. Known for the sun, beautiful beaches, vibrant nightlife, and a thriving food scene, Turkey is a wonderful place for a vacation. Travellers who are not familiar with Turkey, its culture, language and customs, may have a lot of questions about how to prepare for a holiday there. Here are the top things you need to know for a stress-free trip to Turkey.
Is it safe for single women to travel in Turkey?
Turkey is in the Middle East, which makes many solo female travellers worry that it isn't a safe option for them. In fact, Turkey is a progressive and cosmopolitan country, especially in the capital. Here you can read my tips on how to spend a perfect first day in Istanbul.
Travelling for women is easier and safer than you might think. Remember that Turkey is largely a Muslim country, so women are expected to dress conservatively.
If you are in big cities, main tourist areas, or beach resorts, you can show some skin as a foreign woman without causing too much fuss. However, it is wise to be prepared to cover your arms and legs. As a generic rule, I wear light linen trousers and shirts with 3/4 sleeves whenever I travel in the Middle East or other conservative countries like India. It is a simple matter of respecting local traditions, culture and behaviours, while also making your travel experience less stressful. Keep an eye on your drinks too, and stay away from men who are too forward.
Can I visit mosques in Turkey?
Many of Turkey's mosques are stunning, especially the Blue Mosque and Hagia Sophia in Istanbul. The mosques are open to visitors, whether you are Muslim or non-Muslim. However, if you do visit, it is important you follow the rules and cultural standards of etiquette. If you wish to visit a mosque, choose a time that will be the least likely to disturb or distract any worshippers or prayer groups. When you arrive at a mosque, you are required to remove your shoes, to keep the interior of the mosque clean.
Once inside, move slowly and keep as quiet as possible. It is considered impolite to pass in front of worshippers, so always pass being. Conservative clothing should be worn, and people of all genders should minimise the amount of skin they have exposed. Some mosques have attendants who can provide you with robes to wear inside if your outfit is too revealing. Women should cover their hair with a headscarf before entering the mosque.
What can I eat in Turkey?
Turkish food is renowned and loved around the world and doesn't require many introductions.
In Turkey, you will be able to enjoy delicious and flavourful dishes like meze, such as hummus and other dips, stuffed vine leaves, kebabs, salads, and even pizza. Lahmacun is a spicy, crispy cheeseless "pizza" style flatbread and one of the most famous Turkish street food.
If you're a meat-eater or pescatarian, then Turkey has a lot to offer. You can enjoy dishes including Turkish meatballs, slow-cooked lamb, and flatbreads topped with minced meat, lemon, and yoghurt. And lots of fresh seafood, especially in port cities like Istanbul or along the Turkish coast.
Turkish people love their fresh and dried fruits, nuts, and desserts. If you have a sweet tooth, then baklava or Turkish Delight are the obvious choice. You can buy them in confectionary shops or at spice bazaars, where they are artisanally made and extra decadent.
The typical Turkish breakfast is made up of a variety of cheese, with olives, bread, jams, honey, and a spicy sausage called sucuk, which is usually eaten with eggs. A popular egg dish is menemen: scrambled eggs with tomatoes and red peppers served with Turkish bread such as simit (a circular bread crusted with sesame seeds).
If you're a fan of coffee, then try Turkish coffee, which is brewed in a coffee cezve, or Ibrik. This coffee is rich and dark, and often flavoured with cardamom. You have to be patient and let it sit for a few minutes for the coffee grounds to sink to the bottom of the cup, then slowly sip it.
Should I tip in Turkey?
Tipping is expected in Turkey. You should leave a tip of 10 to 15% on your bill in a restaurant. In other areas of the service industry, such as taking a FAT Taxi, it is polite to round up the bill, but this is not obligatory. If you stay in an upmarket hotel, then you should leave a couple of dollars per day for the housekeeping and concierge staff. Your tour guide should also be tipped around USD $10 – 15 per day.
What's the shopping like in Turkey?
One of the best places to shop in Turkey is in the Grand Bazaar in Istanbul's Old City. It has over 4,000 shops divided into specialist areas, including gold, carpets, leather, souvenirs, and clothing. If you are shopping for local handicrafts, look for textiles, pieces made from copper, onyx, and tile, jewellery, and carpets. The Grand Bazaar is a must visit for anyone visiting Istanbul for the first time.
From the Grand Bazaar, move onto the Egyptian Spice Bazaar at Eminonu. Here you can buy a huge range of spices for much less than you would pay at home. Some of the best deals are on pine kernels, peppercorns, and Iranian saffron. If you're fallen in love with local treats, you can also buy Turkish Delight in large amounts for great prices.
Most towns across Turkey will have their own local markets and bazaars. Prices and quality of leather goods are very good compared to Europe and the UK, so don't miss out on visiting a leather manufacturer during your holiday.
Should I haggle when shopping in Turkey?
A bit of haggling is expected, so don't be afraid to ask for a discount on the asking price. In Turkey, haggling is both a social practice and a business one. Almost everything can be haggled over. To get the best price, it is important to be friendly and polite throughout the whole transaction. Keep smiling, but try not to reveal how much you want the item you're buying. Never be rude or offensive. If the vendor believes that you aren't that bothered with buying the particular item, then they will drop the price to tempt you.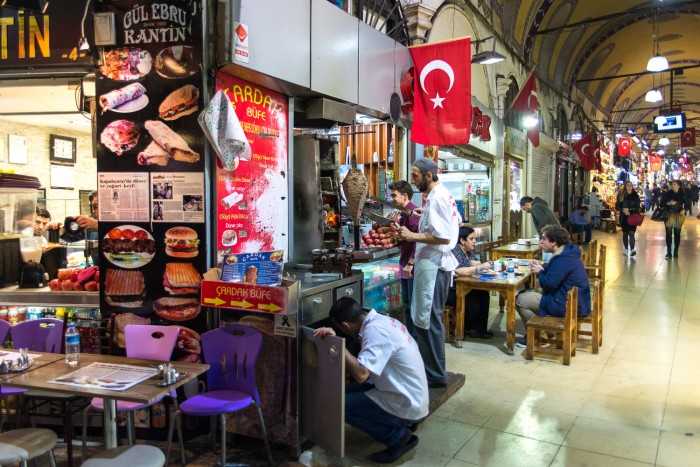 What vaccinations do I need for Turkey?
Before you travel to Turkey, you should seek medical advice from your health practitioner. They can make sure that you receive all of the appropriate vaccinations before you travel. In general, you should get vaccinations against Diphtheria, Hepatitis A, and Tetanus. Check your local health authorities advice for Turkey before you set off.
Is it safe to drink the tap water in Turkey?
Turkey's tap water is considered by most people to be safe to drink. However, as a precaution against stomach upsets, it's wise to drink bottled mineral water instead. Bottled water is available from most shops, restaurants, and hotels, so you can buy it wherever you go if you are concerned.
What is the best time to visit Turkey?
Don't be tricked by the fact that Turkey is located near the Middle East; it is not an all year round hot destination. In fact, depending on where you are travelling to, Turkey can get very cold in winter. It is not unusual to snow heavily, particular in central Anatolia where Cappadocia is situated. There is also a significant temperature difference between day and night, that's true in summers as well, so don't forget to pack a warm sweater and jacket.
While the climate in Turkey varies depending on the regions, summer are generally hot, dry and sunny everywhere you go. On the Mediterranean and Aegean coasts, temperatures reach 30°C and above. May-June and September-October are the best times to go. Avoid July-August to avoid peak season travel costs and extreme heat waves.
Turkey is a wonderful place to visit, with lots to see, do, and try. Remember to be as respectful as you can of local customs and culture, especially religious. While Turkey is more modern than other parts of the Middle East, a certain amount of respect for the Muslim faith is expected, so be prepared. With some preparation, you can have the trip of a lifetime.
Disclaimer: this is a collaborative post.