There is nowhere in the world as exciting, dreamy and as full of wonders as Rome. I might be slightly biased; given this stunning city is my hometown. Still, years after moving abroad, I'm filled with joy any time I return to my hometown.
The Best Spots to Eat and Drink in Rome
One of the best things about Rome is of course, Roman food. The culinary scene of the city has definitely evolved since I left over a decade ago, but one fact remains the same. You can find the absolute best of Roman gastronomy in the city's abundance of traditional Roman trattorie.
I'm often asked for my favourite spots in Rome and after (much) careful thought; I've finally condensed these into one list.
Traditional Roman Restaurants
When in Rome, you must try Roman pastas such as Carbonara, Cacio e Pepe, Amatriciana and Gricia.
These can be had at Da Enzo al 29, one my personal favourites in Trastevere. Tiny and tucked away, they offer about as close to a home-cooked meal as you'll get in Rome. Dimly lit with a no-frills policy, the authenticity of this trattoria has kept it in the heart of locals for years. Don't leave without trying their tiramisù! Note: they don't take bookings so get there early.
Another typical Roman dish is gnocchi alla romana, but don't get confused by the name: they are not the potato gnocchi you may have tasted before, these are round discs made of semolina and then oven-roasted with butter and cheese.
For more rustic staple dishes of Roman cuisine, such as trippa alla romana (a dish of tripe, onions, tomatoes, carrots, white wine and Pecorino Romano cheese) and coda alla vaccinara (oxtail stew), you could try any of the following restaurants: Il Bucatino in Testaccio; Flavio al Velavevodetto (Testaccio or Prati); Armando al Pantheon; Trattoria Piperno in the Jewish ghetto (which has a fascinating history); Trattoria da Cesare al Casaletto, La Taverna dei Fori Imperiali where I recently had a lovely dinner with my parents (don't miss the tiramisù), the humble trattoria SantoPalato, or Il Sorpasso in Prati, a lively wine bar / restaurant and recent new discovery of mine.
For the best Spaghetti alla Carbonara in Rome, definitely head over to Roscioli Salumeria con Cucina near Campo de' Fiori. A charcuterie, cheese and wine shop, this spot is renowned for having the highest quality ingredients from Lazio and other Italian regions. There's not a whole lot of legroom, but it's all part of the Roman experience! Definitely try and book ahead for this one.
Rimessa Roscioli, part of the same group, offers a unique wine & food experience in the heart of Rome, including wine tastings, cooking classes and food tours. The restaurant is open every day for dinner and on Saturday/Sunday for lunch as well.
Pizzerias
While pizza will always be a key highlight in Italy, the uniquely thin and crispy Roman definitely holds a special place in my heart. For authentic Roman style pizza I recommend Pizzeria Emma, one of the few restaurants that serves quality pizzas at both lunch and dinnertime. At Emma, the pizza dough is fermented for forty-eight hours, stretched by hand into a flat disk, then rolled to ensure a thin, crisp final product. The pizza's thin interior is then covered in a thin layer of tomato and cheese and studded with bits of cured anchovies for a deliciously salty and flavoursome result.
La Montecarlo, Pizzeria Remo in Testaccio, L'Elementare – Trastevere and the stunningly simple Da Baffetto all deserve honorary mentions for Roman style pizza! But wait there's more. You can also find amazing pizza in Rome at La Gatta Mangiona in Monteverde neighbourhood, 180g Pizzeria Romana, Sbanco and the rustic Sforno.
Finally, another great pizzeria that I try to go to every time I'm in Rome is  Seu Pizza Illuminati. The award-winning pizzaiolo Pier Daniele Seu is considered one of the masters in Italy. Its style of pizza aims to merge the Neapolitan and Roman dough styles. The toppings are original and out-of-this-world delicious. Make sure to order the classic supplì and fried courgette blossom (fiore di zucca fritto) as a starter.
Pizza al taglio
If you're pressed for time, don't worry – Roman food options still have you covered. For the best takeaway pizza in Rome, try Bonci Pizzarium. The original shop is right by the Vatican, but they also have a stand at Mercato Centrale food hall. Their pizza is cooked in giant trays, before being cut into squares (hence the name "pizza al taglio") and sold by weight, in true Roman style.
Other options include La Renella Forno Antico Trastevere, Antico Forno Serpenti in Monti neighbourhood, or the famous Antico Forno Roscioli. Here, as well as pizza by the slice, you can order delicious supplì bread, biscuits and seasonal cakes such as Panettone or Colomba!
For the most delicious pizza with original toppings (grilled peach and lard or courgette blossoms with burrata and anchovies just to name a few), I highly recommend Casa Manco in Testaccio Market or in Trastevere. I discovered them while on a food tour of Testaccio neighbourhood led by Devour Rome, which is a fantastic way to learn more about Roman cuisine.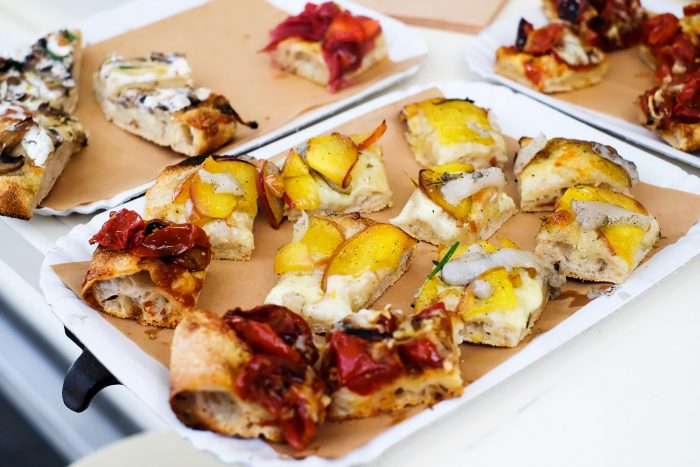 Roman Street Food
Rome is crazy about street food and the offerings are pretty incredible. A favourite of mine is found at Trapizzino, aka the home of Rome's most ingenious street food; the trapizzini. Invented by Callegari in 2008, this is a triangular, thick and hollow wedge of pizza bianca stuffed with savoury dishes like chicken cacciatore, meatballs in tomato sauce and burrata with anchovies. Absolutely mouth-watering. They have many shops across the city, including one at Mercato Central food hall. You can also find trapizzini on the menu at Il Sorpasso restaurant near Vatican City.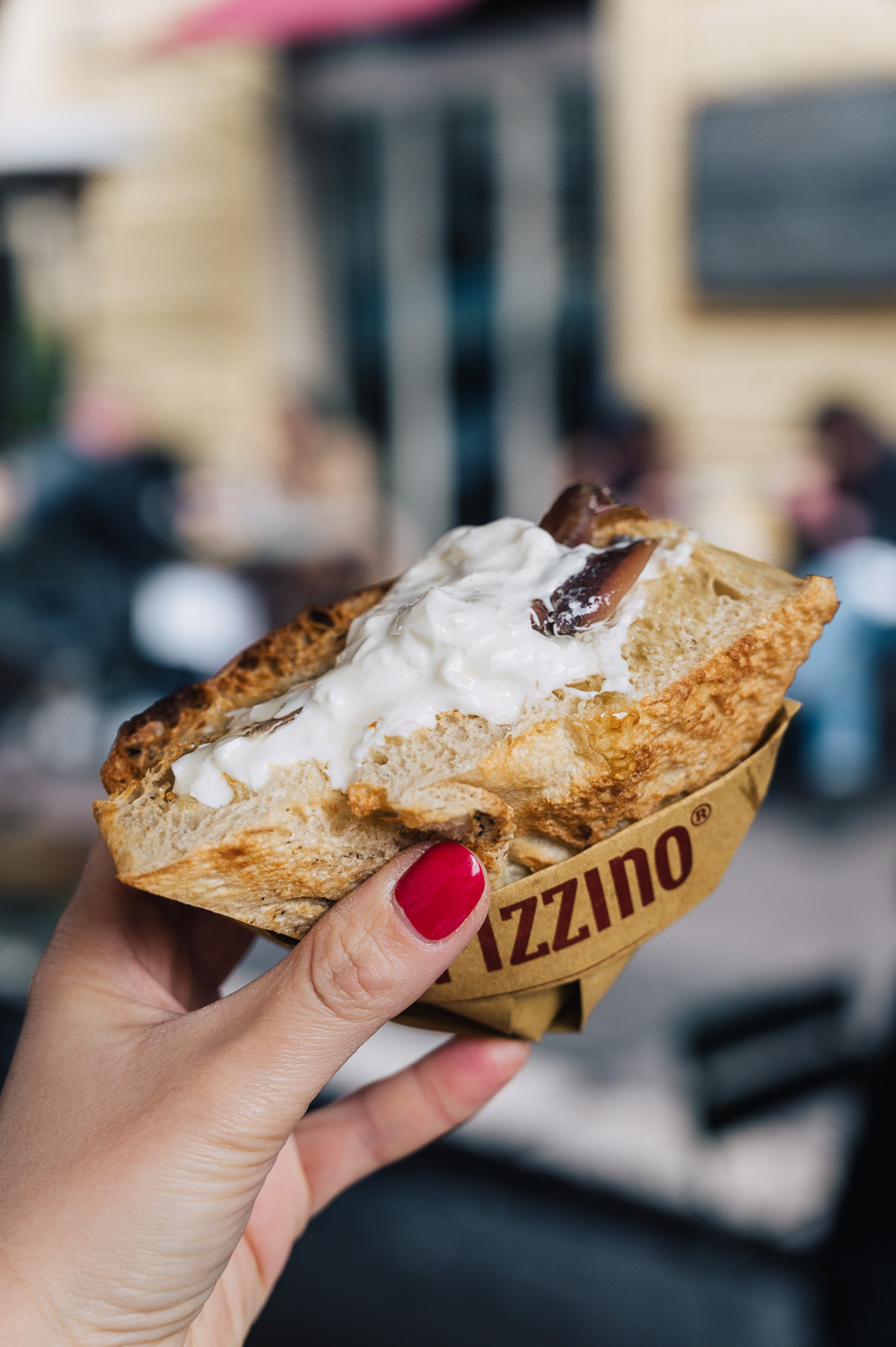 Another great street food creation is the supplì (Roman fried risotto balls). It can be found at I Suppli Trastevere, Supplizio. or I Supplì dei Coronari. Originally the poor man's dish created to recycle old risotto rice, supplì involve a ball of rice with tomato sauce and a heart of mozzarella, coated in breadcrumbs and then finally deep-fried. These are the real thing.
At Mordi E Vai you can try the amazing "panino allesso", a sandwich made with boiled meat and cicoria vegetables. At Dar Filettaro you must try the baccalà fritto, a traditional Roman snack: the flaky fillets are dipped in a heavy egg batter, fried, and served piping hot.
The Mercato Centrale is a relatively new food destination, located within the Termini railway station. Here you can find some great options and enjoy some of Rome's best restaurants such as the Pizzarium, Trapizzino and Pizza Pier Daniele Seu, in a bustling Roman atmosphere.
Fine Dining
For fine dining and special occasions my recommendations are a little different. I would go with La Terrazza in Hotel Eden (which has absolutely stunning city views), Coromandel, Metamorfosi or Il Convivio. These all remain traditionally Roman, with an upscale twist. Retrobottega offers tasting menus featuring inventive dishes paired with wine, in a minimalist, edgy space; they also specialise in handmade pasta and speciality coffee.
Coffee
One my less favoured quirks of Rome is its tendency towards low quality dark-roasted robusta beans and filthy coffee machines as the norm. Still, there are some great exceptions to the rule, you just have to know where to look. Faro is one of Rome's few options for single origin, light roasted speciality coffee.
At Sant'Eustachio Il Caffè, order the signature gran caffè and drink it standing at the bar or sitting in the pretty piazza; an experience unique to the most famous coffee roastery that's been open in Rome since 1938. You can also taste or buy bags of their coffee at the newly opened Emporio Sant'Eustachio near Pantheon.
Other coffee options worth mentioning are Roscioli Caffé, Barnum and Pergamino Caffé (perfect for a coffee break before or after visiting the Vatican Museums).
If you are in Testaccio, check out Tram Depot a lively a kiosk bar in the style of a tram carriage – a great spot for coffee in the day, but also for aperitivo in the night.
If you're looking for good coffee and brunch (not typically Roman, but still delicious!), I really like the offer at Marigold Roma in Testaccio and at Cugino at The Hoxton Hotel in Parioli.
Pasticcerie (pastry shops)
Pastries in Rome are an absolute must. I recommend to taste bigné at least once, it is a typical dessert of Rome made of choux pastry filled with cream of different flavours (bigné al cioccolato is my favourite, together with Bigné di San Giuseppe, only available around mid-March to celebrate Father's Day).
Located in Trastevere not far from the River Tiber, Biscottificio Artigiano Innocenti has been baking cookies for decades and offers an authentically Roman feel. Pasticceria Boccione is a highly very popular bakery (you'll recognise it by the queue outside!) with Jewish-Roman-style cakes in the Ghetto neighbourhood, near the Synagogue.
There are many, many pastry shops in the city. Some personal favourites are Casa Manfredi (a short walk away from Piramide station) which in addition to making great pastries, also bakes the best Pandoro I've ever tasted during the Christmas period. Then, Pasticceria Regoli near Termini Station, Pasticceria Andreotti Dal 1931 in EUR, Pasticceria Barberini in Testaccio, the newly opened Zucchero pastry shop inside the W Hotel Rome, and French-style boulangerie Le Levain.
For a taste of the one and only maritozzo con panna (a sweet yeasted bun filled with whipped cream), my go to bar is Il Maritozzaro near Stazione Trastevere and Porta Portese market. Beware, it's open at odd hours, mostly from evening to morning when coffee and freshly baked pastries feed workers returning home after their shift or clubbers after a night out.
Gelato
A trip to Rome could not go without a mention of gelato. Whether you visit Rome in the summertime or middle of winter, don't miss out on a visit Rome's oldest ice cream parlour, Giolitti. And a tip; whipped cream is always free so make sure you ask for it!
As you can imagine, there is no shortage of great gelato in Rome! My two favourite gelaterie are Otaleg in Trastevere and Fata Morgana (several locations across Rome) – the latter is perfect is you like to be adventurous with flavours (matcha & wasabi, basil & aromatic herbs, ricotta & pears to name a few). Other great options include GROM, Gelateria La Romana, Gunther Gelato artigianale and Gelateria dei Gracchi.
Craft Beer, Wine, Cocktails and Aperitivo
The 'aperitivo' hour is an non negotiable part of Roman life: the chance to unwind with friends with food and a glass a Prosecco, Aperol Spritz or Negroni – all before dinner.
One of the most popular aperitivo spots is the vibrant Freni & Frizioni, which you can find in the heart of Trastevere. The bar overlooks a small packed square, which remains busy from around 7pm through to the early hours of the morning! I also love Camillo dal 1980, particularly because you can't beat the view of Piazza Navona!
Some other wonderful options include Enoteca Ferrara (a much more intimate setting) and the cosy Il Goccetto. Litro is a popular bar dedicated to wine, Open Baladin offers a more contemporary option for craft beer and burgers, or you could visit the small and quaint Remigio Champagne e vino.
When in Rome, you should definitely try local wine from Castelli Romani, 17 small towns on volcanic hills south-east of Rome, of which Frascati is the liveliest. You'll always find Frascati white wine on the menu in Rome or ask your waiter for recommendations. If you have time, take a day trip to one of the towns in the Roman Castles and get a taste of local wine and the famous porchetta of Ariccia in one of the many fraschette (taverns).
Food Shopping
There are fantastic shops selling local products all over the city. Look out for the salumeria sign, usually these are shops selling all kinds of charcuterie and cheese. Salumeria Volpetti (Testaccio) is one of the historic ones and best known in Rome – they ship their products all over the world.
Right near Testaccio, a great option for food shopping is Eataly, a brand known all over the world. Not only can you do your food shopping, but it also contains 18 restaurants and cafes, a brewery and a coffee roaster!
Rome Food Tours
The best way to eat like a Roman is to join a guided food tour in Rome, an absolutely fantastic option is the Rome Trastevere food tour by Eating Italy or by Devour. I reviewed both tour companies and their offer is really good.
Where to Stay in Rome
Whenever I visit Rome, I usually stay with my parents, however over the years I had the chance to sleep in some beautiful hotels in the city. I highly recommend staying a Melia Villa Agrippina Gran Meliá or The Westin Excelsior in Via Veneto if you're looking for a luxury stay (you'll find detailed reviews of both hotels in my blog). W Rome or The Hoxton Rome if you like a cool, boutique hotel with great food options or Le Meridién Visconti in Parioli for comfort and close proximity to the Vatican.
I hope you enjoyed reading this post! I'd love to hear from you about your experiences eating in Rome. Leave a comment here or on my Instagram page. I'm also happy to answer any questions about food in my city!