Forza Win, the pizza supperclub on a rooftop in Shoreditch, has become one of my favourite summer events. I was a guest at their first event last summer and I loved the food and atmosphere.
Forza Win 2013 has a new roof top, new menu, new wine list, new drinks and new entertainment. They still work with Pizza Pilgrims to serve amazing pizza (in exciting new flavours) and a whole host of great suppliers for everything else.
Forza Win is a seasonal rooftop supper club – in Summer we are a pizzeria with woodfired ovens, big communal tables and a great vibe.
What can you expect? Forza Win tickets cost £30 and include a drink on arrival, a starter, a pizza course and an ice-cream dessert by Gelupo.
There are 50 tickets available per night: 40 are pre-sold and 10 are released weekly, on a Monday. Forza Win runs every Thursday, Friday and Saturday evening throughout the summer.
The pizza course is a 'tasting menu' – so you will eat a whole pizza, but every slice will be a different flavour.
During the evening, you will be able to purchase from the drinks menu. They have a wine list of good quality Italian red and white wines, Birra Moretti on tap and Aperol Spritz cocktails.
As a starter, we had Courgette Carpaccio with lemon, olive oil and garlic served English Ricotta and E5 Bakehouse toasted sourdough.
The pizza menu will change as the summer goes on, but last week we tried the classics (Margherita and Marinara) and a few special flavours. My favourite: the mozzarella, Parma ham, dried figs and rosemary. Such an interesting combination, which worked so well!
The making of the pizzas at Forza Win supperclub.
We were lucky to have amazing weather last week and it really felt like summer had arrived in London (normal gray and cold weather has since come back…)!
What's better than being on a rooftop in London drinking spritz and eating pizza? It was a fantastic party and I am sure everyone else had a great time too!
Thanks Kate of A Southern Belle in London for taking this photo of me and my husband! Finally I get to be in front of the camera! :)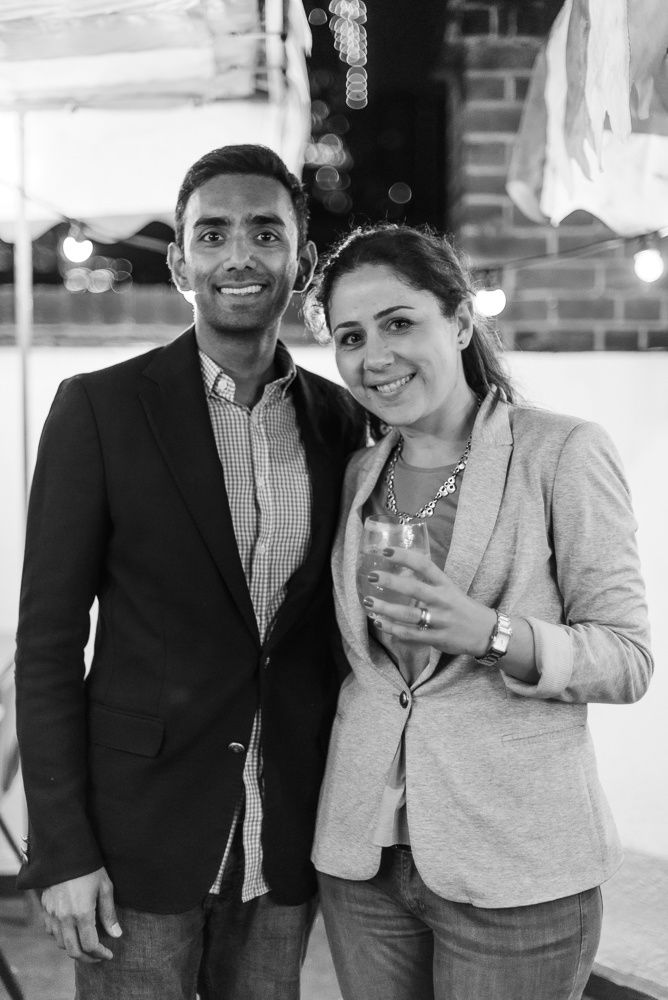 Disclaimer: I was a guest at Forza Win Press Night. All opinions are my own.