I blogged about Breddos Tacos last year (see post here), during their residency at Slider Bar in Soho. A few months ago they moved east and found a new home at Trip Space in Haggerston, where they serve their Mexican / American inspired dishes for dinner and brunch from Wednesdays to Sundays.
The brunch menu is a new addition to their offer and it features dishes like classic American pancakes, Huevos Rancheros and fried chicken. I think it sounds amazing and I'm really keen in trying it soon. Have a look at the photos on What Katie Does and I bet you will want to try it too!
I was invited in May to try Breddos Tacos for dinner and I've delayed blogging about my experience for so long because I was hoping to go back for the brunch and combine all my photos in one post. Unfortunately with all the travelling and the fact that Haggerston is an hour away from my home, I haven't had a chance to go back yet.
So without further ado, here are the photos of my dinner at Breddos Tacos @ Trip Space!
The dinner menu is divided into 'shack favourites' from Breddos' street food days, such as tostadas and tacos; 'the plancha' which features new dishes like glazed chicken wings, grilled mackerel and roasted pork belly; the 'sides' (pickled chillies, charcuterie, fried chicken and chips); vegetables and desserts.
We ordered a few tacos and tostadas with some vegetable sides, but we didn't get try any of the 'plancha' dishes in this occasion (we arrived there at 21:30 and only decided to order more food after 22:00, but by then the kitchen was closed). Another reason to go back soon!
We tried the 10hr slow roast chipotle beef short rib tacos; the Conchinita pork pibil tostadas; and the pickled beetroot, carrot, queso fresco and pine nuts tostadas.
I have eaten Breddos' tacos many times at Street Feast and they are definitely among the best you can find in London. I think that with the Trip Space residency they have upped their game, now serving "refined" tacos that look beautiful and taste as delicious as their street dishes.
We ate the tacos and tostadas with different vegetable on the side: street salad with jalapeno & lime dressing (not pictured below); charred spring onions with sour cream and queso fresco and triple cooked chipotle patatas bravas.
Obviously I had space in my tummy for dessert, so we shared a slice of Mississipi Mud Pie: the tart base was not as crunchy as I would have liked, but overall the cake was quite good.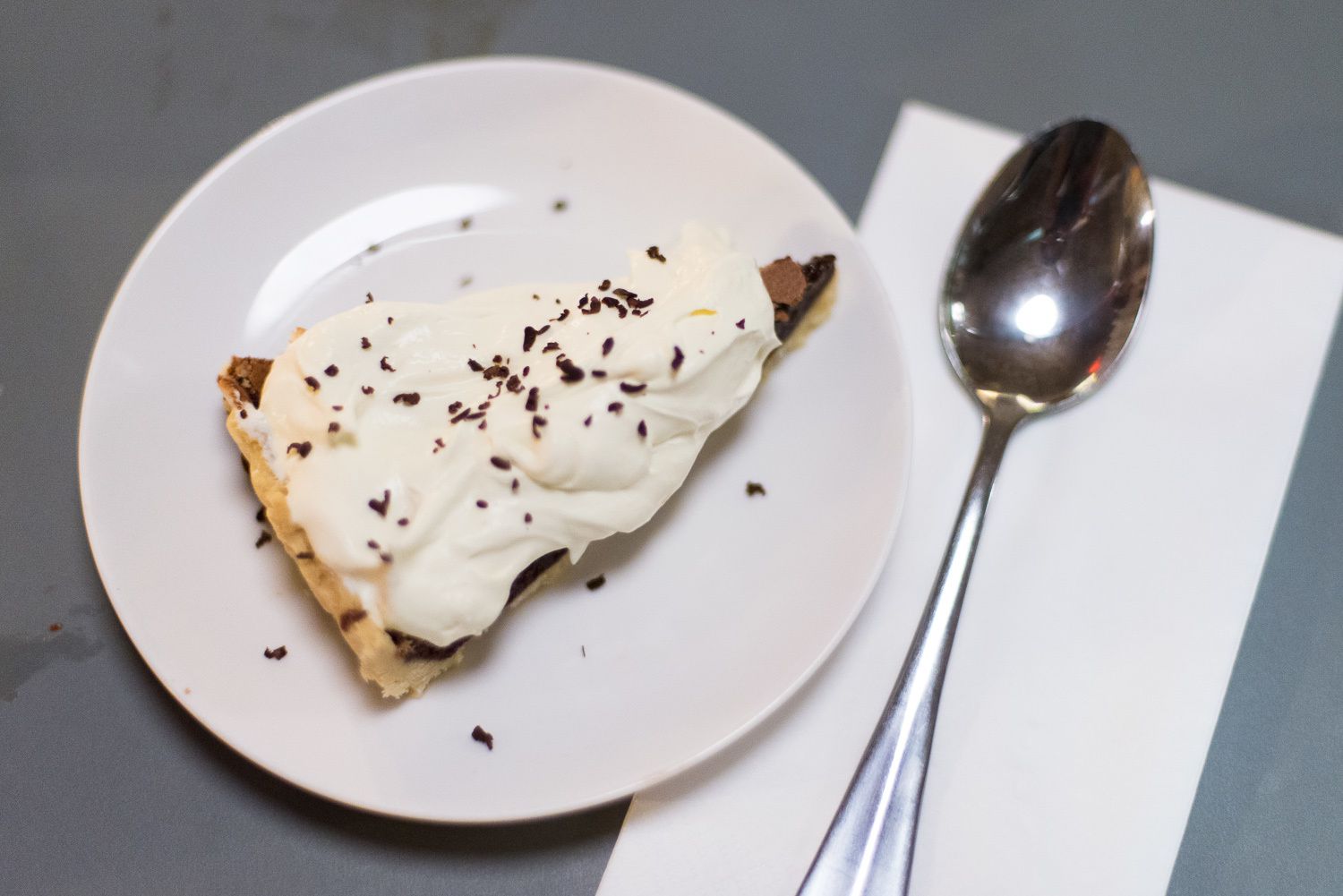 You can find Breddos Tacos @ Trip Space, Arch 339-40, Acton Mews, E8 4EA.
Also don't miss their street food stall at Street Feast in Dalston Yard and at Model Market in Lewisham.
Disclaimer: I was offered a complimentary dinner at the restaurant. All opinions are my own.