Staycations have become increasingly popular with people in recent times. Whether it's a weekend in a boutique hotel in London, a visit to the countryside, a luxury stay in the Cotswolds with your partner or a holiday in the Peak District National Park, the UK has plenty to offer in terms of destinations. Here is a list of my favourite holiday spots in Great Britain.
Perhaps it's because of the unreliable weather or the myth that British food is unsophisticated and bad, but the UK is often overlooked as a holiday destination – especially by foreign tourists but also Brits. That's a shame, because the UK is full of gorgeous landscapes and vibrant cities spread all around the country. British cuisine is more varied than most people think and often relies on locally sourced, organic, fresh, seasonal produce grown and cooked by skilled farmers and chefs. The UK can offer you truly fantastic all-round experiences!
Going on holiday in your own country is easier to get to than a foreign destination and is generally cheaper than going abroad, too. You don't have to worry about any language barriers either, and they're generally a lot kinder on the wallet too. All it takes is a few hours in your motorhome or car listening to music or podcasts, or playing  Mega Moolah free spins no deposit, or a train journey full of card games (and tasty snacks), and… before you know it, you're in one of United Kingdom's hotspots! It's that easy, although not everyone is aware of some of the amazing staycation destinations we have available to us. There really are some hidden gems.
Top 6 Staycation Destinations In The UK
So, with that in mind, I thought I'd provide some holiday inspiration to you all by highlighting some of the best staycation destinations the UK has to offer this year.
1. Bath, England
If history is your thing, then Bath is riddled with it. With its Roman-built baths which people flock to from all over the world, Bath is a stunningly beautiful city with a lovely feel throughout it. From its independent shops to its Thermae Bath Spa, the biggest city in Somerset became a World Heritage site in 1987 and offers so much for both couples and families. If you're after a staycation in a city, then look no further than Bath.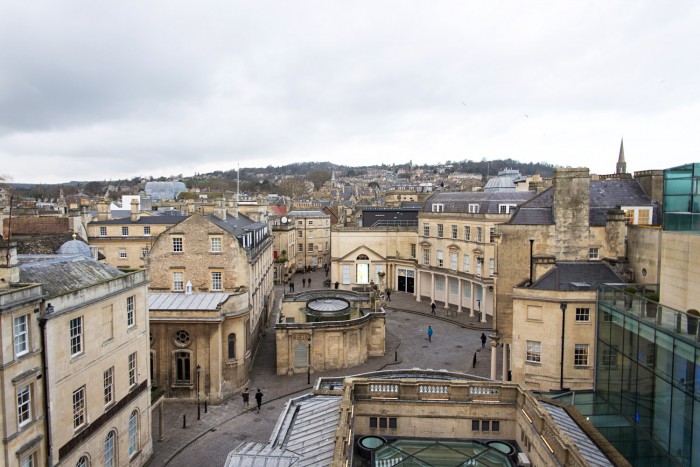 Bath is one of the best destinations for a spa weekend; I recommend staying at The Gainsborough Hotel, a five-star accommodation and the only UK hotel with access to naturally heated thermal waters. Also in Bath you shouldn't miss Colonna & Small's, serving some of the best coffee in the country.
Just one hour drive from Bath, you will be in Cheddar, a quintessential English countryside town situated in a 400-feet deep gorge, with one high street, a few shops and a local pub. What makes Cheddar special? Here is where cheddar, UK's most famous national cheese, comes from!
Another place worth stopping for a day or two in Somerset is the wonderful The Pig in Pensford (just 30′ drive from Bath), a boutique country house surrounded by an extensive walled garden, and sister property to The Pig in New Forest.
2. Isle of Skye, Scotland
Scotland is blessed with incredible landscape, and the Isle of Skye is the perfect example of that. With its breathtakingly beautiful scenery and its fresh air, this is a part of the UK that wouldn't look out of place in a movie. If you're lucky, you might even get to see the Northern Lights too. Overall, if you're keen to discover natural beauty and switch off from city life, then the Isle of Skye is a great option.
Dunmara is a self catering cottage with spectacular views, where my husband and I spent a couple of days during our first Scottish trip together. It is located in the tiny hamlet of Dunan, about 11 miles from the Skye bridge, and so easily accessible from the mainland.
If you are travelling to Scotland from England or from abroad, you will likely pass through Edinburgh. The Scottish capital city is a gorgeous city with lots to offer, so I highly recommend planning a longer trip and allow for one or two days there. The Edinburgh Castle, the Royal Mile, Saint Giles Cathedral, Dean Village and Calton Hill are just some of the sights you shouldn't miss in Edinburgh.
Among the many beautiful destinations to discover in Scotland, one that is often overlooked is Inverness, on the northeast coast, where the River Ness meets the Moray Firth. Read more about why Inverness is worth visiting.
3. Jurassic Coast, England
The Jurassic Coast is a lovely part of England gaining more and more recognition for its perfect getaways. Stretching from Exmouth in East Devon to Studland Bay in Dorset, there's so much to see and do in the area, with its beaches – Durdle Door in particular – being a particular highlight. Whether you're a lover of seaside towns like Swanage or prefer historic beauty the likes of Lyme Regis offers, there's plenty of options along this coastline.
I have travelled from London to this part of the English coast many times over the years and I absolutely love it. My favourite memories are from sunny weekends on the beach in Sandbanks, stays in a caravan overlooking the Bristol Channel with my family and cooking Full English Breakfast together, visiting the picturesque towns of Frome in Somerset or Gold Hill in Dorset, or hiking to the Golden Cap cliff for stunning views of the Jurassic Coast!
If you're a keen foodie looking for fresh seafood, traditional local ales and some of the best traditional cream teas, southern England is definitely a great destination for you!
4. Padstow, Southern England
Cornwall has always been popular, but towns like Padstow haven't always been considered a holiday destination as such, but now its reputation is well and truly growing. Padstow has an array of top-quality seafood restaurants on offer too, with Rick Stein's establishment delighting customers all year round. Located on the north coast of Cornwall, Padstow's sandy beaches and its fishing port are stunning also, helping add to what is a delightful town.
There are many more places to discover in this rugged southwestern tip of England. Why not read my 5-day guide to beautiful Cornwall to find inspiration and practical tips for your next staycation in the UK!
5. Cumbria, North West England
If you live in the UK, why not plan your next holiday to Cumbria? I can highly recommend spending a few days in the lush countryside of North West England, which is easily accessible by car or train from England, Wales and Scotland. You could be spending your days walking and hiking in places like the Howgill Fells, a small group of hills that offer staggering views over the Cumbria landscape and North Yorkshire. Or visit picturesque villages like Sedbergh, a little market town in Cumbria, a hidden gem on the edge of the Yorkshire Dales.
For a relaxing stay in Cumbria, book a room at Brownber Hall is a charming boutique guesthouse in Cumbria that ticks all the boxes for a dreamy, relaxing countryside break!
6. Snowdonia, Wales
Some call it the "New Zealand of the UK", Snowdonia in northwest Wales is ideal for those who want to immerse themselves in nature and experience the array of natural beauty the area has to offer. From walks to its largest natural lake in Wales, alongside its characterful pubs, this is not only a beautiful part of the Great Britian, but also the world.
The highest mountain in England and Wales, Mount Snowdon, stands tall over the village of Llanberis in this part of the country. There are different Snowdon walking routes to follow on the way to the jagged mountain peaks, which offer views of Snowdonia, Anglesey, Pembrokeshire and even as far as Ireland!
Disclaimer: this is a collaborative post.