Istanbul, a city located in the Bosphorus Strait, between Europe and Asia, is the cultural, economic and financial centre of Turkey. Finding a good place to stay is easy enough, but you need to know which are the best areas to stay in Istanbul. Read on for the best hotels for tourists in Sultanahmet.
Istanbul is a popular tourist destination, attracting more than 9.5 million visitors a year thanks to its unique location, rich history and colossal cultural heritage. The city has several UNESCO World Heritage-listed neighborhoods and a multitude of historical monuments.
Be it historical, bourgeois, popular or commercial districts, Istanbul can offer you a variety of different atmospheres from one district to another and a varied offer of accommodation. For first-time visitors, the size of the city, the crowds, the sheer amount of sights to see and things to do… it can be somewhat overwhelming. That's why I have shared a guide on how to spend a perfect first day in Istanbul and how to spend 48 hours in Istanbul.
I love Istanbul! Straddling Europe and Asia, Istanbul has historically been one of the most important cities in the world. Turkey is a gorgeous, mesmerizing and unique country. It is rich with cultures and traditions, history and art, cuisines and folklore. However, some aspects of life in Turkey can be very different from our lives in the Western countries. And so it is important for travellers to do a bit of planning and research to learn everything there is to know before travelling to Turkey.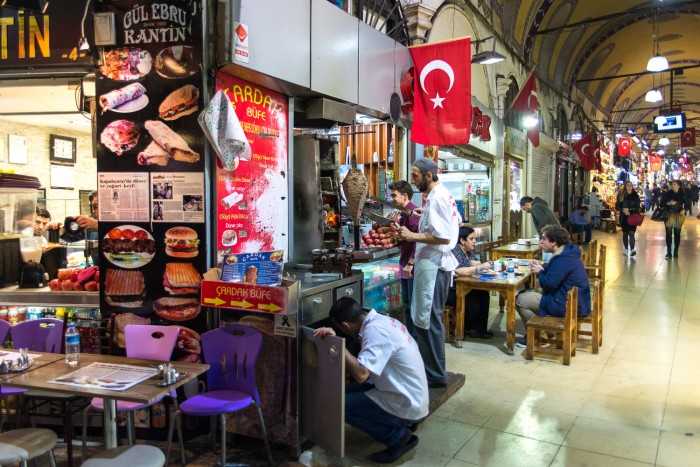 It is also very important to search for the right type of accommodation and location for you. In this post, I will try to help you to find best hotels in istanbul: it is not an easy task, Istanbul is a huge city and there are many neighborhoods to sleep in, but here I will tell you only about the best and most comfortable to visit the city, that you stay a whole week or just a few days.
In addition to the areas where to stay, I also searched for the best hotels for you. While I haven't been to all of them, based on my research I chose the hotels that have the best value for money for every budget, from luxury to budget.
Where to sleep in Istanbul for the first time… Sultanahmet?
This neighborhood is the best place to stay in Istanbul if you are visiting the city for the first time or if you have a few days planned to visit the city: Sultanahmet is the historical and cultural heart of Istanbul and all the places of interest are located right there. even on foot.
The Hagia Sophia, the Blue Mosque, the Topkapi Palace, the Basilica Cistern, the Grand Bazaar are all within walking distance of most hotels. The only negative thing about Sultanahmet is that in the evening it empties completely and becomes a kind of moratorium: it is very difficult to find an open place to spend the evening or simply have a drink after dinner.
The Best Hotels For Tourists in Sultanahmet
Here is the list of hotels you can opt while your stay in Istanbul:
1. Second Home Hostel
If you are looking for a practical, and comfortable stay, the Second Home Hostel is for you. The first point to its advantage is centrality. In fact, public transport is easily accessible, and it is also close to major attractions such as the Blue Mosque, the Hagia Sophia and, just 10 minutes away, the Grand Bazaar.
The Second Home Hostel has modest, but cozy rooms for all types of travelers: whether alone or with the family. They have air conditioning, wi-fi, large and well-kept bathrooms, modern and essential furnishings. The kitchen is shared and there is also a laundry service. The atmosphere is pleasant, the staff friendly, helpful and particularly sociable, so much so that they have regular customers! The owners also take care to give any kind of information and suggestions about the tours.
2. Saba Sultan Hotel
In a very central, strategic and perfect position for visiting the city, is the Saba Sultan Hotel. Away from traffic, the hotel offers large, richly furnished and decorated rooms, soundproofed, with large windows, air conditioning, safe and television, free wi-fi… the staff guarantees maximum competence and availability. You can easily ask for information about the unmissable stops to visit, the best restaurants to go to for delicious meals and even the hotel itself will book for you! The same goes for the purchase of tickets or reservations for attractions and shows scheduled during your stopover period.
If you are a quick explorer and you like to move in an ecological way, the bike rental service is for you. The breakfast is as characteristic as the style of the restaurant: you can taste olives and traditional Turkish bread.
The location allows you to visit the city in the best possible way, you cannot fail to go to the Hagia Sophia (500m away) and even before that to the Blue Mosque, just 200m away!
3. Ahmet Efendi Evi House
You can find the Ahmet Efendi Evi with a central location, always excellent for visiting the city and easy access to public transport to reach every destination of your itinerary. Despite being in the historic center, the rooms of Ahmet Efendi Evi offer peace and tranquility. The rooms are modest and simple, but welcoming, with a bathroom and a nice balcony at your disposal.
Each of them has a TV with multilingual channels, a table and a practical minibar that is always well-stocked. The comments on breakfast are more than excellent, a meal based on always fresh and varied dishes is guaranteed: bread, fruit and cheese at will!
4. Azade Hotel
If a structure that offers luxury and charm suits your needs better, the Azade Hotel is for you! The structure is very characteristic. It is located along a cobbled street in the historic center and was born from the renovation of a wooden house. It offers spectacular views. The Azade Hotel is ideal for a relaxing stay. In fact, it has a wellness center, which provides every type of care for the body and mind: from the sauna to massages, to the Turkish bath.
Other proposed activities are cultural meetings, to better discover the history of the city you are going to visit and the neighborhood in which you are staying, tours on foot or by bike and magnificent evenings with themed dinners! The rooms are stunning and elegant, with oriental decor and wooden flooring. In your room, you will find a flat-screen satellite TV, a richly stocked minibar, a private bathroom and a safe.
The hotel's touch of class is the rooftop restaurant (where breakfast is served). This restaurant location allows guests to eat with a spectacular view!
5. Georges Hotel
Moving away from Sultanahmet to Beyoğlu district on the European side of İstanbul, I highly recommend this trendy and elegant boutique hotel. Georges Hotel is located in a heritage building in the heart of Istanbul's chic cultural centre, minutes away from Galata Tower and the lively Istiklal Street and a short walk to Taksim Square. The entrance to the hotel is hidden away on a narrow street surrounded by shops and bars, so that it could easily go unnoticed. Luckily we arrived by taxi from the airport, so we didn't have to carry our heavy luggage up and down the hilly streets of Galata.
One of the biggest perks of staying here? The rooftop restaurant with stunning city views, from the nearby Galata Tower to the historical peninsula, including all the top sights like Topkapi Palace, Hagia Sophia, Blue Mosque and Süleymaniye Mosque.
Disclaimer: this is a collaborative post.