Roti Chai is one of the first London restaurants I reviewed on Mondomulia (read here) and one I regularly go back to. I love the food, the place and the service. While I love to try new restaurants (the choice is so big in London), sometimes you just want to go back to familiar dishes and sit down at the table knowing that your dinner is going to be great.
When Roti Chai introduced the Toddy Shop Burger I knew it was going to be a special one. The burger was developed especially for Young & Foodish Burger Monday event last year and is not on the Roti Chai menu. I missed Burger Monday and then failed to try the Toddy Shop burger at National Burger Day before it sold out.
Finally the chance came with #BAD4 (Burger Away Day), an informal meet-up organised attended by a small group burger-loving Twitter friends.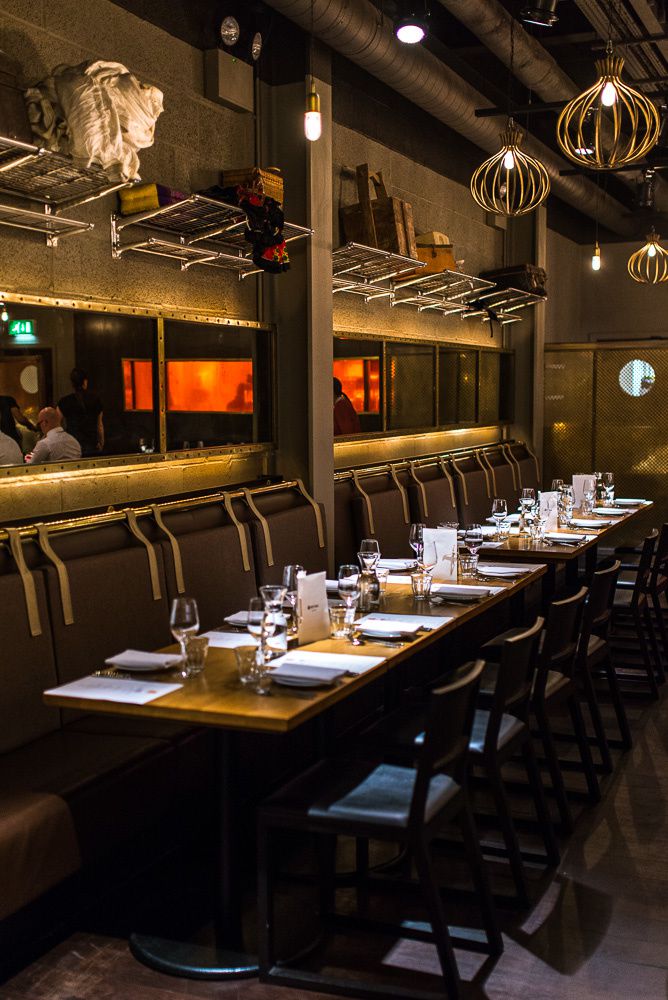 Rohit Chugh (the founder of Roti Chai) organised the event just for us, proposing a special menu of three courses plus welcome drink, at a very good price (£25 + service charge). He was there on the night to welcome us and make sure everything was going well.
Since my first visit at Roti Chai, Rohit and his staff have shown passion for the business and care to always provide the best experience to their customers. Above the food, this is the main reason why I love to go back.
We started the evening at the bar downstairs, drinking a Kovalam Beach Kick cocktail: lychee, coconut, guava, ginger and chai spiced vodka.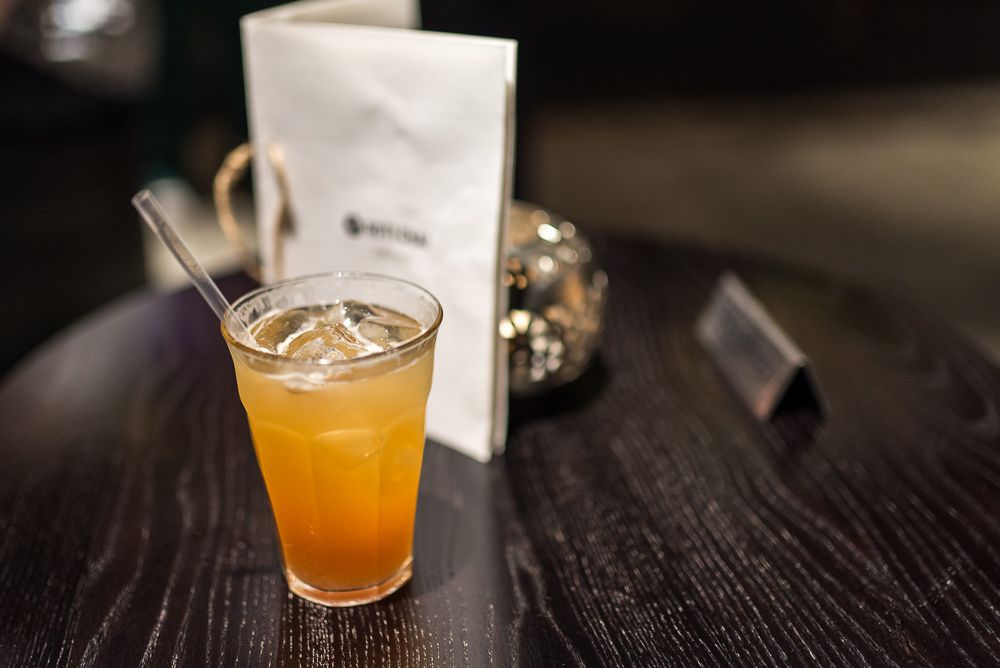 We then moved to a long table in the Dining Room. We started with Parsi Chicken Farcha (green spice marinated chicken with a crunchy crumb crust) which was so good, it was the highlight of the night for many of us.
It was served with Chilli Chicken (pulled spiced tandoori chicken with tangy tamarind sauce) and a delicious pav bread roll.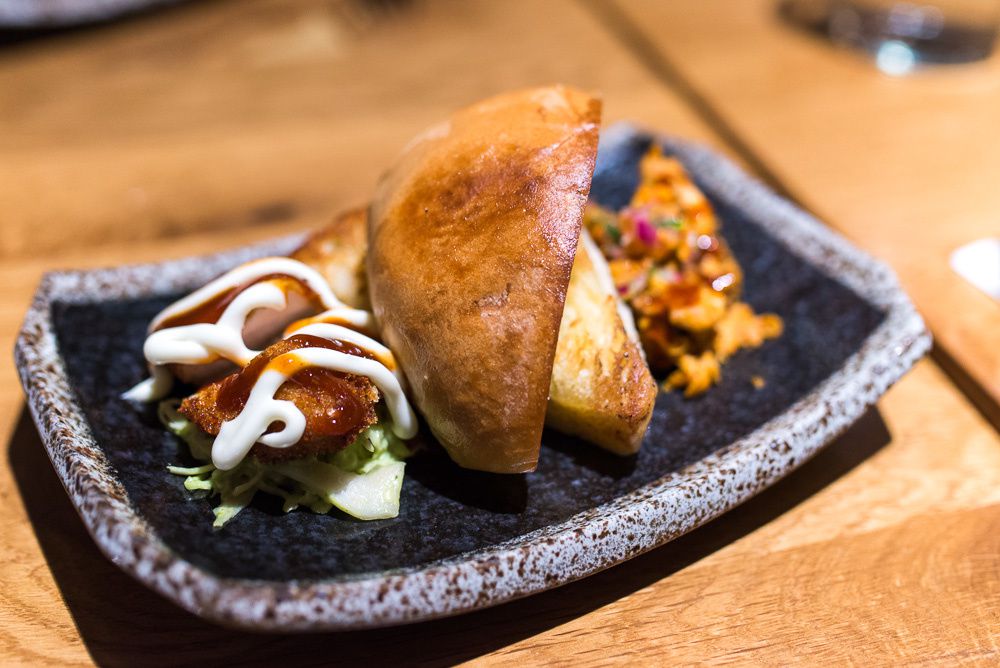 After the first starter, the Chef sent a special treat to our table: portions of Spicy Pea & Potato Samosas to share, topped with pomegranate, yoghurt and tamarind.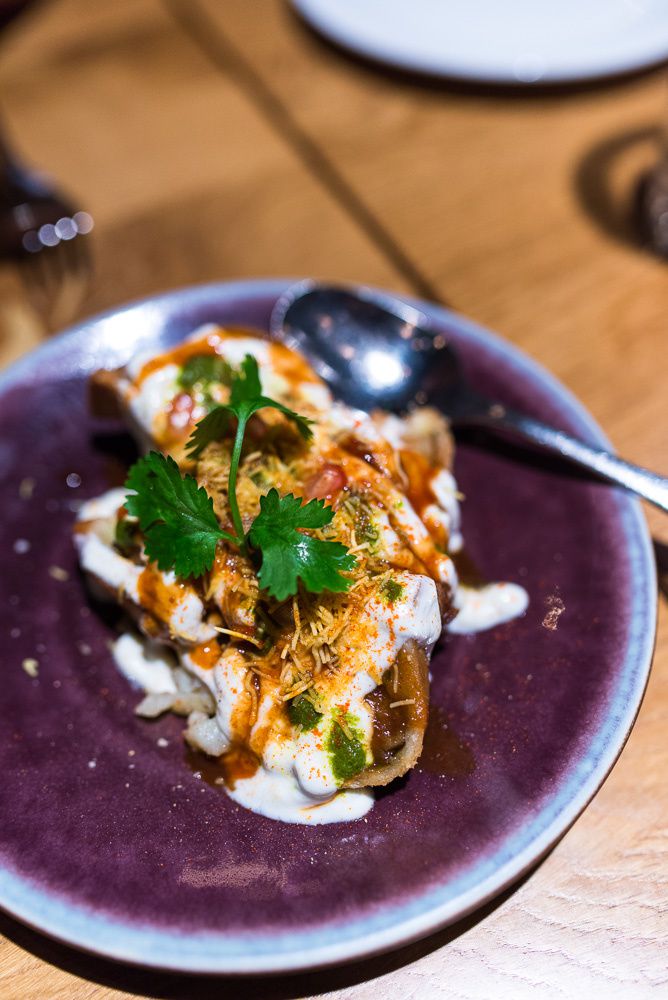 I was full and satisfied already, but then the Toddy Shop Burger arrived, with crispy Dakshini Potato Wedges, and so I tucked in!
The burger is prepared with aged Ayrshire Angus chuck steak infused with star anise, curry leaves, cinnamon, coconut and red chillis. The recipe is "inspired by beef fry, a traditional dish from the streets and Toddy Shop drinking dens of the idyllic Southern state of Kerala".
The patty is accented with a combination of South Indian spices and enough red chillis to leave your lips and tongue tingling up to 10 minutes after you've devoured it.
I loved the spiced burger, the cheese (brûléed with a blowtorch) and the soft buttery bun. It's a rich burger with intense flavours, a special creation that works wonderfully.
A sweet and fresh Mango Kulfi (creamy Indian ice-cream on a stick) was the perfect dessert to follow the spiced main course and end our meal.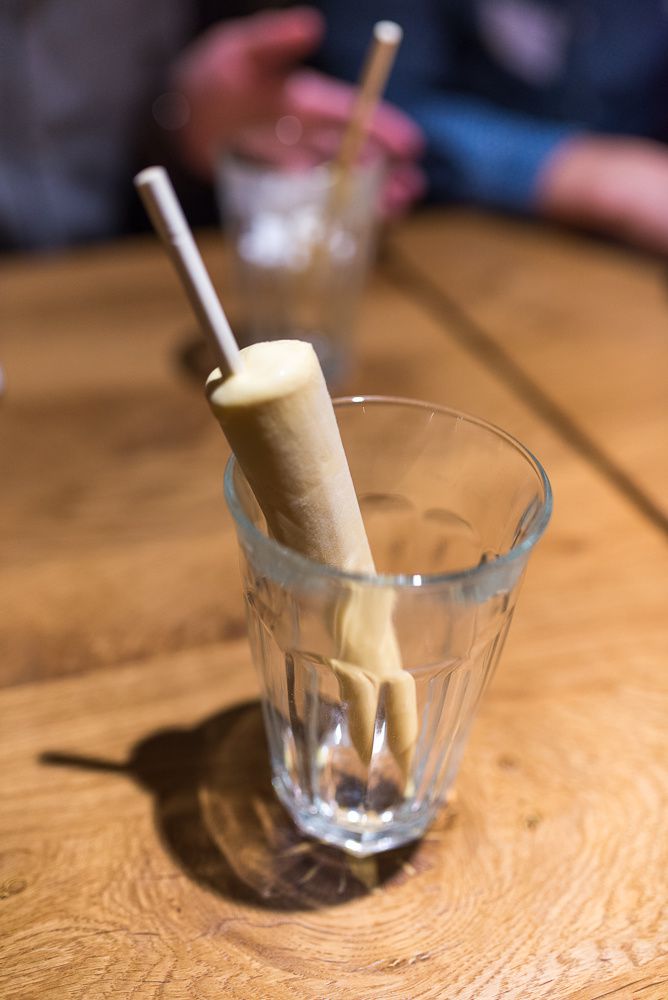 I stayed around for a while chatting with my friends about food and London restaurants. My favourite topics! It was overall a great night and I am looking forward to the next #BAD5!
Thanks to Roti Chai for yet another fantastic dinner; Rohit and Camilla for organising the event; and the #BAD community for being such great company!