Last week I met the #BAD (Burger Away Day) gang for a low key meet-up at Dip & Flip in Clapham Junction.
Though it only opened in November, Dip & Flip already has a cult following and my burger-loving friends have rated it in their London 's top fives. Not many people would come south of the Thames for a burger, but this one is worth it!
Their specials are the French-Dip Sandwiches (beef, lamb or fried chicken), but I kept it simple with a Cheese Burger and Fries. Staying true to their name, all burgers are served with gravy for dipping!
In my opinion, their burger stands half way between a fast-food greasy burger (Meat Liquor style) and a gourmet burger (Elliot's Café style). A good burger that satisfies your cravings without being heavy on your stomach. With fries and a soft drink you can stay below the £15 mark (including service), which is not bad for London.
One of the highlights of the menu is the Dip & Flip Burger (a cheeseburger topped with roast beef). It sounds a bit over the top, but most of the people at our table tried it and loved it.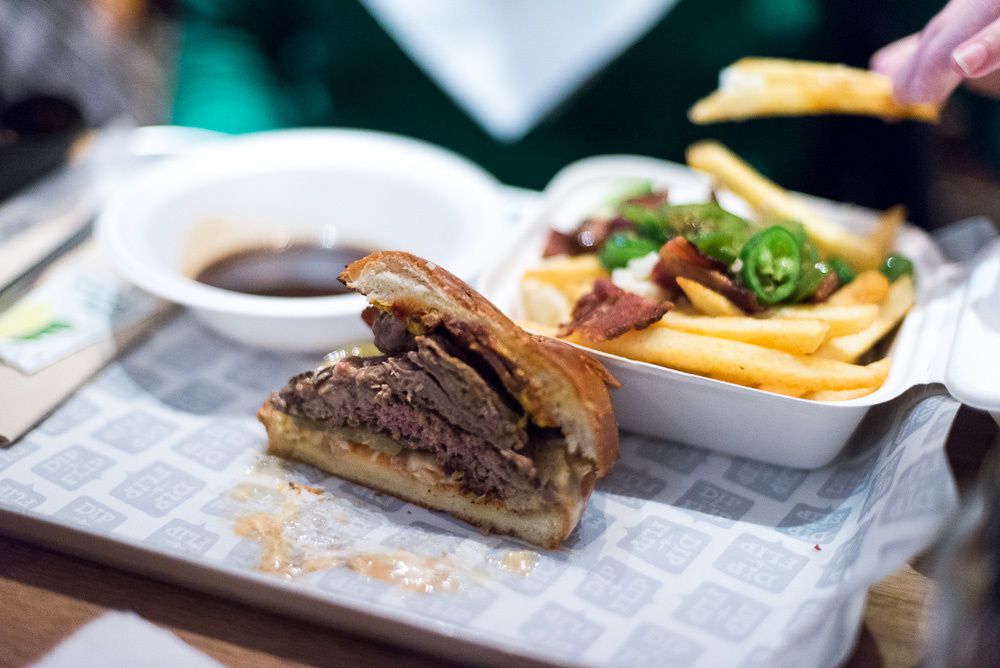 For something out of the ordinary, try the Patty Melt (a sandwich with burger patty) and the Poutine (gravy covered chips with cheese).
And of course, don't forget to dip your burger/sandwich in the gravy! I was reluctant when I saw the bowl of beef gravy, but after trying a bite of gravy-dipped burger, I was hooked.
On its own I didn't like the crunchy crust of the burger bun, but it worked very well with the gravy (a brioche bun would have been too soft for dipping).
We all loved our burgers and had a great time!
This is what happens at bloggers' meet-ups…stop for photos before eating! :)