I'm very excited to write about Lardo today and share the photos from our Saturday brunch. I have a long list of overdue posts to publish, but this one cannot wait!
I set myself an objective for this year to explore more of east London: Dalston, Stoke Newington, Hackney, Shoreditch, etc. In particular I want to try all the coffee shops that have been popping up in the past two years. I used to be around these areas a lot before, but since I moved to south London I have only been making rare trips to the east.
Last Saturday I convinced forced my husband to accompany me on an expedition to Homerton to review 46b Espresso Hut, a tiny and charming coffee shop, currently top rated in London's Best Coffee app.
On the way to the café, we made a detour to Netil Market to visit Terrone Coffee and then strolled across London Fields and arrived at Lardo for a late lunch.
Lardo is located in Richmond Road, on the north side of the London Fields park and within walking distance from the Overground station at Hackney Central.
Its opening was one of the highlights of summer of 2012, with food bloggers racing to be the first ones to review it. London's best journalists also took the opportunity to write about pizza and burrata, hipsters and gentrification, in their columns.
So, here are two quotes from my favourites food writers, Marina O'Loughlin and Grace Dent.
Lardo, the baby of Eliza Flanagan (ex-Bistrotheque general manager), is located in the fantastically proportioned Arthaus building. There are what used to be called yuppie flats upstairs and, in the concierged lobby, lots of edgy art. The star of the show is a showstopping, igloo-shaped, wood-burning oven as spangly as a disco ball. It's easy to be seduced by Lardo and I am: it's a place of considerable charm.
Lardo, a rather gorgeous Italian hipsterish bistro featuring dazzling charcuterie (fennel pollen salami, cured loin, speck), cocktails and fine pizzas appearing from its shiny, disco-ball-shaped oven. I'm sure the oven was a terrific pain to plan and build but it was worth every penny, giving the rather plain industrial room a punch of decadent zing.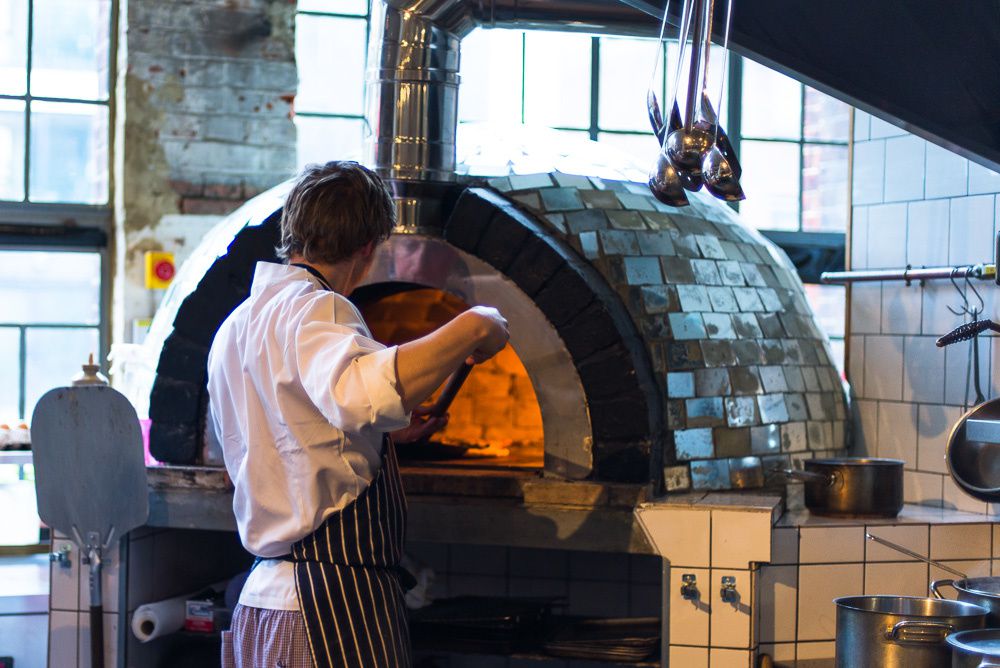 I called the restaurant around 1 o'clock and spoke to a friendly lady who confirmed the restaurant was open and serving food all day. She also asked if I wanted to make a reservation, which I thought was kind of her to ask. The thing is, I am so used of the ever-present "no booking policy" that it didn't even occur to me I could reserve a table!
When we arrived, the restaurant was still busy from lunch service, but we were immediately taken to our table.
We ordered an ale from Redchurch Brewery and a glass of delicious Primitivo del Salento red wine.
I had heard that Lardo's dishes were small, so we decided to order two starters and two main courses. Afterwards, we were so full, I had to skip dessert! (really, that's unheard of!)
I was recommended the Fennel Pollen Salame, but I wanted to keep the starters vegetarian, so that I could share them with Sandy, so instead we ordered Burrata and Jerusalem Artichokes, Cauliflower, Red Onion. They were served with two slices of oily and fragrant focaccia bread.
The burrata, served in a small plate filled with Spanish extra virgin olive oil, was fresh, tasty and with the perfect melt-in-your-mouth texture.
But the real surprise was given by the Jerusalem Artichokes, mixed with crunchy cauliflowers and caramelised red onion, and a sweet vinaigrette that I could not identify, but turned the dish into something very special.
As a main course, I ordered the Pappardelle with Wild Boar and Guanciale (no sharing for this one!), while Sandy order a classic Tomato, Mozzarella, Basil Pizza.
I ordered the small portion of pappardelle, but it was actually more than enough for one person, with the right ratio of pasta versus meat. It was very good.
I tasted Sandy's pizza and I liked the coarseness of the dough. We inquired with the waiter how the dough was made and he led us behind the kitchen counter, to the wood-fired oven. Chef Christian showed us how they make pizza by rolling the dough on a surface covered with semolina flour. The semolina adds colour and flavour to the pizza; sure it is not an authentic Neapolitan pizza, but if you don't mind that, then you are going to enjoy this!
There were a few hiccups with the service, as they prepared a different pizza from what we had ordered, but the waiter and chef immediately apologised for the mistake and within five minutes the right order was served. As an apology, they offered us a complimentary glass of Stellaspritz (a cocktail of Prosecco and home-made grapefruit liqueur), which was delicious and left me slightly tipsy.
We had a lovely time, the entire staff was welcoming, friendly and smiley all along, the food and drinks were nice, the space was damn beautiful. What more can you ask from a restaurant?